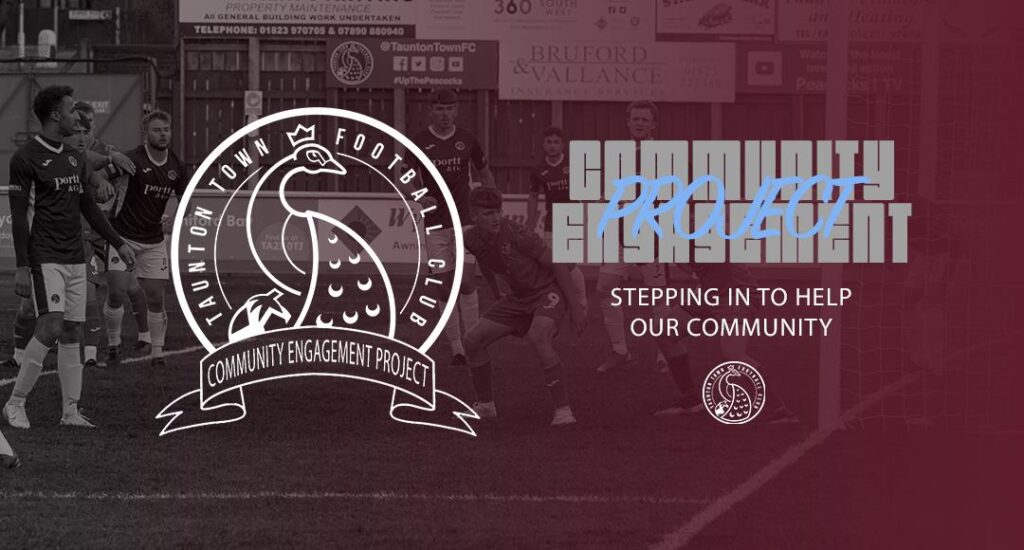 Taunton Town Football Club are delighted to announce the launch of its 'Community Engagement Project', having secured funding from the Trident Community Foundation and Trident League sponsors GVC Ltd under the 'Pitching-In' brand. The Club has designed and will deliver a structured programme of engagement which will provide members of the local community with the opportunity to participate in a broad range of free sporting and non-sporting activities.
The year-long project has a variety of aims including developing young talent, promoting non-league football to a wider audience, attracting volunteers, and encouraging health, fitness and strong community links with individuals and groups within our local communities of Halcon, Holway, Blackbrook and across the wider Taunton area. Key project partnerships have been formed with Club Sponsors and partners alongside several highly respected and committed local community service-providers and organisations.
Community Engagement Partners include: Cygnet Health Care, Portt & Co., OC Training & Performance, 360 South West, Somerset Skills & Learning (Social Enterprise), Carly Press, Taunton Youth Football Community Trust, Bridgwater and Taunton College, Bishops Lydeard Football Club (through the Taunton Town FC 'Player Pathway' Partnership), Taunton Welcomes Refugees and Amnesty International.
The Club has appointed Rob Wenham as Taunton Town FC's Community Engagement Officer. Rob has designed and will coordinate delivery of the 'Partner-led/ Supported' varied programme of activities and events aimed at promoting fitness, health, and well-being, with the objective of improving the physical or psychological health of local people.
Rob will be supported by Taunton Town's Club SHOP Manager, Lee Derrick, who has been appointed Community Engagement Assistant, while Taunton Town FC Staff, Management, local members of the playing squad and familiar Club volunteers will also be involved.
Following his appointment, Rob Wenham commented: "Having volunteered for the Peacocks over the last five years and assisting fellow supporters of Taunton Town FC in remaining safe and secure whilst sharing our passion of watching the Peacocks across the land, I felt that we weren't utilising the Club facilities to their full potential nor maximising engagement between the Club and its local community. My dreams have come to fruition with the launch of Taunton Town FC's 'Community Engagement Project' thanks to the trust, commitment and full support of the Club, the Board of Directors and funding from the Trident Community Foundation".
Project activities will be offered FREE of charge including light refreshments and will be held at Taunton Town FC's Cygnet Health Care Stadium in Wordsworth Drive or alternative community facilities and locations. Activities will include Community Learning Workshops and Courses, Digital Skills Workshops, Monthly Social Evenings, Youth Football Coaching, Fitness Classes and 'Behind the Scenes' Stadium Tours of the Cygnet Health Care Stadium.
Each activity is tailored to need and designed with the objective of improving the physical or psychological health of local people, providing individuals with an opportunity to increase social interaction whilst importantly 'sign-posting' access to key community organisations and support services available in the Taunton area.
The first Project Activities confirmed are Community Learning Workshops (Health & Well-being) being delivered by Somerset Skills & Learning which will begin towards the end of June. Booking details along with information on all other activities are available on the accompanying Project Activities document HERE. All Activities will be subject to and in compliance with Government restrictions.
Ahead of the launch of the Project, Stuart Hooper, Active Life Lead at Cygnet Hospital, Taunton commented: "We are proud to be associated with Taunton Town FC particularly during these challenging times and appreciate the amazing work being undertaken. We look forward to supporting Taunton Town FC further with its Community Engagement Project which provides a great opportunity for our patients to engage further with the Club by supporting events and becoming actively involved by assisting to serve activity refreshments".
Kerry Caddy, Community & External Partnership Co-ordinator for Somerset Skills & Learning remarked:" SS&L's workshops are your opportunity to learn more about mental health for yourself and those around you and discover techniques to improve your wellbeing."
Matt Portt from Club Sponsors and Project Partners, Portt & Co. enthused: "Taunton Town FC have undertaken great work to get its Community Engagement Project off the ground and Portt & Co. will do all it can to fully support and promote it".
Taunton Town FC Chief Executive and Club Chairman, Kevin Sturmey commented: "In the new World we are all entering in to, being part of a wider and diverse Community will be very important for Taunton Town Football Club. We have engaged a lot with our community through football, but this new programme will now facilitate vital engagement across Taunton and its wider population. We will endeavour to cover all ages, as wellbeing for everyone is going to be vital to come out of this Pandemic stronger and wiser together."
Look out for full details of Project Activities which will be published on the Club's and Project Partner's websites, Social Media Channels, local press and throughout the community.
#UpThePeacocks!