Recap
Report
It was a case of two points dropped for the Peacocks as they were forced to settle for a draw at a chilly Elmbridge Sports Hub. Town had won both their previous visits to the Surrey club and Toby Holmes' first half opener had looked to be enough to secure another victory until a soft goal three minutes from time allowed Casuals a share of the spoils from a scrappy game.
An accident on the M3 meant the Peacocks did not arrive until 2.30, resulting in a delayed kick-off and with striker Jared Lewington having also dropped out due to Covid, preparations might have been smoother. Ross Stearn stepped in for Lewington, the only change from the midweek win at Weston, whilst Fixtures Secretary Martin Dongworth, in danger of missing his first game since 1976, managed to make the trip eastwards in time for kick-off.
Early play produced little to enthuse the crowd, John Gilbert's shot taking a deflection to earn the first corner of the game while Stearn's cross at the other end was cleared to Joe Guest who fired over the top from 12 yards. Holmes saw another shot suffer the same fate before a back pass from Rohdell Gordon caused some consternation for Casuals, Stearn appearing to be in at one stage before losing his footing.
The first real chance came for the hosts just past the 20 minute mark when Tom Bird's free kick picked out the unmarked Jerry Wiltshire, but he could only fire straight at Will Buse from close range. Tarik Moore-Azille then headed wide of the post from Bird's corner and Gilbert ballooned a strike over before Town won their first corner on 34 minutes following a terrific run from Ollie Chamberlain.
Incisiveness in front of goal improved two minutes later when the Peacocks took the lead with a well-worked strike. The referee played advantage for Zac Smith to find Holmes who in turn passed to Stearn, he slipped a neat pass through to Joe Budd who set up Holmes to curl a fine finish into the corner of Jacob Adams' net from 15 yards, one of the few moments of quality in the game. Stearn then fired a first time shot just wide from distance as Town returned to the changing rooms with their noses in front.
The Peacocks again had more of the play after the break but couldn't find a second goal to put the game to bed which eventually cost them. Casuals failed to clear an early corner, giving Budd a shooting chance, which was blocked, the follow-up from Chamberlain being drilled wide. Jay Foulston's cross was the wrong side of the inrushing Holmes and Stearn blasted a shot over after receiving Foulston's throw before a long kick downfield from Buse reached Stearn but the ball wouldn't come down for him to get a shot in.
Walton meanwhile were not posing too many problems for the Town rearguard apart from Adam Liddle's cross flashing across goal and a free kick being conceded in a dangerous position just outside the box after Gordon had been tripped. The chipped set piece from Bird beat the wall but not Buse who caught comfortably. All too often though the football lacked composure from both sides.
Casuals' skipper Gabriel Odunaike drove wide after benefitting from a ricochet and when Shaun McAuley's cross failed to get a touch from a Walton player it appeared as though Town would escape with the points as the match began to peter out. However, they were undone by a tame equaliser on 87 minutes, Gordon making inroads from the right before curling a cross towards the far post which escaped the attentions of all to sneak in at the post.
Town had one last opportunity to regain their advantage, a decent break ending with Stearn's shot being deflected for a corner from which Ben Adelsbury's header was caught by Adams at the back post. The contest ended on an acrimonious note in stoppage time when a straight red for Jake Wannell and a second yellow for Liddle saw both dismissed following a scuffle which sparked a melee between the teams, unfortunate given the benign nature of the previous 90 minutes.
On a positive note, it was another point on the road for the Peacocks who extend their unbeaten run to four games. In reality though it should have been all three from a match which will not live long in the memory.
Line-Ups
Taunton: Will Buse, Joe Budd, Jay Foulston, Nick Grimes (captain), Jake Wannell, Ollie Chamberlain, Toby Holmes (Gethyn Hill 81) , Joe Guest, Ross Stearn, Zac Smith (Ben Adelsbury 59), Ioan Richards. Unused subs: Conor Hartley, Jack Veale
Walton Casuals: Jacob Adams, Zac Chislett (Joe Morrison 77), Tom Bird, Bradley Keetch, Jerry Wiltshire, Tarik Moore-Azille, Gabriel Odunaike (captain), Ansu Janneh (Shaun McAuley 45), Adam Liddle, John Gilbert (Daniel Rowe 68), Rohdell Gordon. Unused subs: Jeremiah Achina, Shay Honey
Officials
Referee: Markos Valko (London)
Referee's Assistant 1: Robert Trueman (London)
Referee's Assistant 2: Karl Parker (Sheffield)
Attendance
165
Reaction
"We were pretty dominant I think for most of the game and we had all the best chances…" watch Rob Dray's Match Reaction on Peacocks TV HERE
Highlights
Match highlights can be seen on Peacocks TV HERE
Photos
Match photos from Club Photographers Ashley and Darren Harris can be seen HERE and Colin Andrews HERE
Albert Goodman MOM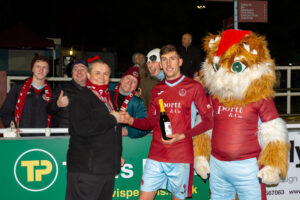 Toby Holmes receives the Taunton Town Man Of The Match award from Peacocks supporter Darrell Gillett along with club mascot Wordsworth