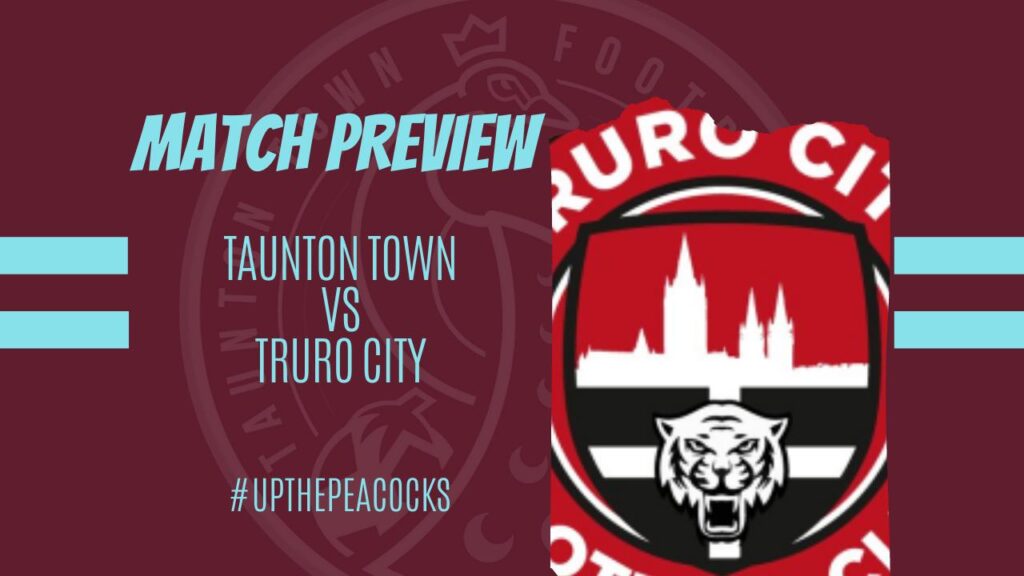 It's a big night of football tomorrow evening (13th October) when the Peacocks welcome Truro City to the Cygnet Health Care Stadium in the 3rd Round Qualifying of the Emirates FA Cup, kick-off 7.45pm.
The sides have already met once this season in the Southern League of course, a Nick Grimes goal gaining Town a creditable 1-1 draw in Cornwall a fortnight ago. Since then the White Tigers have relinquished their unbeaten record, losing 2-1 at Poole Town last week but bounced back to beat Yate Town 2-0 on Saturday, a result which sees them sitting in second place in the table. They have also yet to concede a goal in this season's FA Cup competition, winning 1-0 at Tadley Calleva before thumping National League South side Hungerford Town 4-0 at Treyew Road in the previous round. Their capabilities are therefore obvious and with former Peacocks Shane White, Ryan Brett, Andrew Neal, and Ed Palmer all well known to home supporters it will need a strong performance from their side to see them through to the final qualifying round and net the £5,625 prize money.
The Peacocks will be buoyed by their early season form which sees them undefeated after six matches, with two wins and two draws in the League plus two five goal victories in the FA Cup, the last one being the thrilling derby win at Tiverton. Memories may also flicker back to two games from previous years, the most recent being the Southern League Cup tie between the sides last season when Town finally won through 13-12 in that marathon penalty shoot-out. Tomorrow's tie will also be settled on spot kicks should the scores be level after 90 minutes. It couldn't happen again could it??! Then there is the last occasion Town reached the 3rd Round Qualifying which coincidentally was also played in midweek, a memorable evening seeing the Peacocks thrash National League South outfit St Albans City 5-2 two years ago.
It's as you were as far as the Town squad goes, with no changes from Saturday apart from the addition of Jake Mawford who gained match time playing for Cheddar at the weekend. Head of Football Rob Dray commented:" We're anticipating another great cup game under the lights at the Cygnet with a crowd hopefully up to current capacity as we come up against a very familiar Truro side. As a group we are in a good place and are looking forward to it, with a full squad and Lee Lucas back to fitness. There is the realization that a bit of magic or a mistake could settle this cup tie but we'll be giving it our best shot."
Should any tickets remain, they will be on sale in person at the Cygnet Health Care Stadium tomorrow (Tuesday) between 12 noon and 5.00pm. Please note that admission to this game is strictly by advance ticket purchase only and NO tickets will be available after 5.00pm tomorrow. Tickets are priced at £12 for Adults, £10 for Concessions and £8 for Under 18's. All unanswered calls and emails from tonight will be responded to in the morning. For all further enquiries regarding tickets please email finance@tauntontown.com or call Finance Director Alan Slade on 07900 897249.