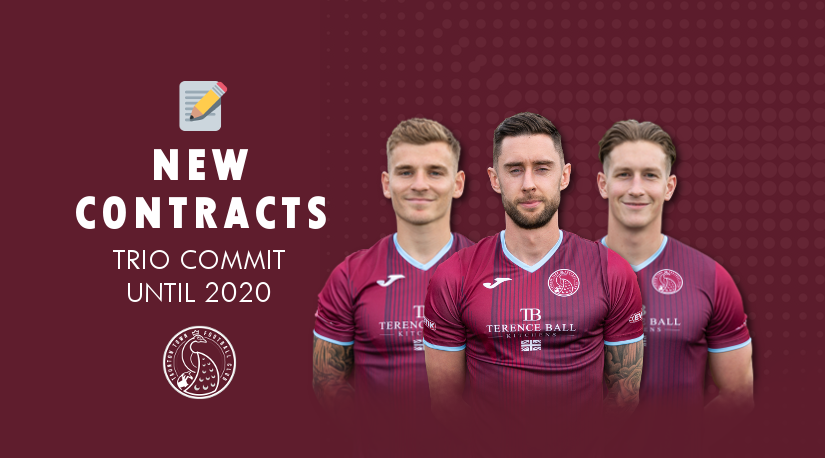 Whist it's a quiet week on the pitch for Rob Dray and his management team, it's set to be a busy week off it as he looks to implement his short and longer term ambitions for the club.
In the first of announcements expected to be made over the next 7 days, Taunton Town Football Club are delighted to reveal that Ben Adelsbury, Ryan Brett and leading goalscorer Andrew 'Rocky' Neal have all put pen to paper on contract extensions keeping them at the Viridor Stadium until the summer of 2020.
The new deals for the trio will no doubt be welcome news for followers of the Peacocks as the club looks to achieve National League status.
TauntonTown.com caught up with all three players following the news. Ben Adelsbury said, "I'm really happy to extend my stay at the Taunton Town, it's certainly a club that is on the rise and that excites me for the future."
Ryan Brett added, "I'm absolutely delighted to commit for another year at Taunton Town. I'm really enjoying my football here. Everything is done professionally and my desire is to achieve for the club. I was welcomed with open arms the day I arrived and I want to repay the faith shown from the management. The support from the fans has been second to none and is appreciated by all of us."
Summer signing Rocky Neal remarked, "I'm really happy to have extended my contract with Taunton, I've enjoyed my football here and the club is doing everything right and heading in the right direction and I'm looking forward to pushing for promotion."
A delighted Rob Dray commented, "The agreement with Rocky for next season is a huge boost to forming the stability and continuity we want for next year. His goals record and work rate are first class but more important his infectious character and desire have been brilliant.
Ryan's influence on the team as a player and a person are huge and him agreeing a contract for next year, secured another part of the bedrock we can continually build off as we evolve into a better team and squad. For me, he is without doubt one of the best players in the league.
With Ben, he hardly makes an error and is a bit of a throwback to an old school defender and is a top player. If we could find another couple of "Bennos" I'd be happy. He's a massive signing for next year and am thrilled all three of them will remain at the Viridor Stadium."