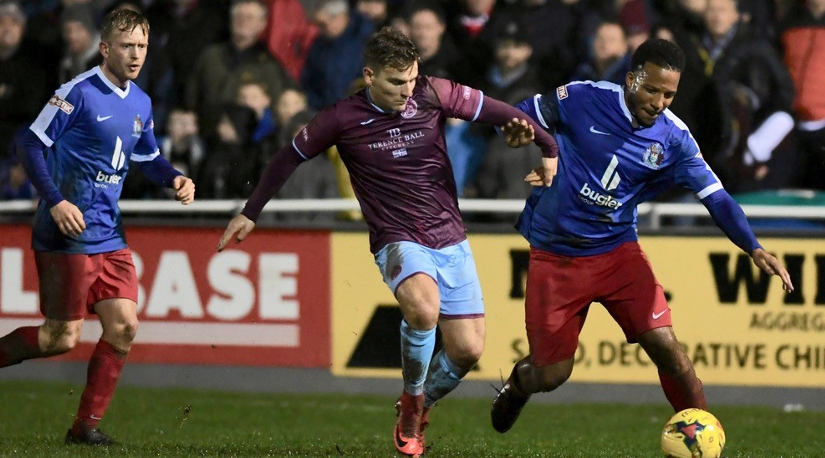 The Peacocks maintained their 5 point lead at the top of the Evo-Stik South Premier Division with a thumbing 7-0 win over Harrow Borough at the Viridor Stadium earlier today.
It was a strange afternoon that was closely fought in the opening 20 minutes. However, by half time the visitors where down to 8 men following the dismissals of Mitchal Gough (18), George Fenton (34) and Anthony O'Connor (45). Town capitalised on Borough's lack of discipline with two quick fire goals from Rocky Neal and Ed Palmer in the closing minutes of the first half to go in with a two goal advantage at the break.
In the second half, the Peacocks added five further goals to compound a miserable afternoon for Harrow. An own goal five minutes from the restart came from a Ryan Brett corner and Matt Buse got Town's fourth before the hour mark. Rocky Neal grabbed his second of the match on 66 minutes slotting home from close range as did skipper Matt Wright tapping home from Craig Veal's ball across the box to make it 6–0.
Ryan Brett completed the scoring with a trademark free kick leaving the keeper routed to the spot.
Head of Football Rob Dray remarked, "It was the strangest game today and respect to the referee. All three decisions were absolutely correct in my opinion. As for us, the players were superb in difficult conditions and we kept trying to score for 90 minutes in these circumstances that's all you could ask for. For what I saw in first 19 minutes, Harrow looked an experienced side and I'm sure will do well. Today though was about us, we kept our discipline well and scored our goals and as for Ed's goal, only Ed can score like that".