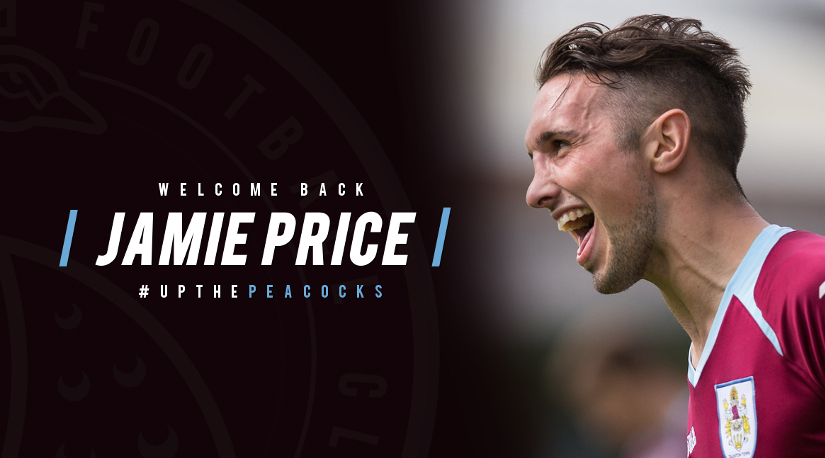 We are delighted to announce that former captain Jamie Price has returned to the club following 3 seasons with Tiverton Town.
Price departed Wordsworth Drive at the end of the 2015/16 season and went on to amass 128 appearances for the Yellows, finding the back of the net on 21 occasions during his spell at Ladysmead.
He's known for his versatility and combative nature and provides Rob Dray with options in the heart of the defence or at wingback where he can drive deep into the opponents half.
With Jamie's return to his hometown club, he becomes our fourth summer arrival following the acquisitions of Jamie Short, Josh Grant and Naby Diallo.
He told tauntontown.com, "The approach from Rob was a bit of surprise at first but the club has changed so much since I left. It's such a progressive club and it was just impossible to say no. I had a great spell at Tiverton but I feel that now is the right time to come back. We have a very strong squad and I'm determined to help the club carry on from a great season and push on for promotion."
Head of Football Rob Dray said, "Jamie needs no introduction. He's a massively experienced defender who will fit in well with the squad and what we are trying to improve on here. He comes back with fire in his belly for his hometown club and I think the reduction in his terms considering he had plenty of offers from other clubs, just shows how much he wants to be here for the right reasons."
Chairman Kevin Sturmey added, "I am very pleased to see Rob has secured another defender which has virtually cemented our squad for the coming season. Jamie Price is one of the best footballers to have ever come out of Taunton and Jamie came to see us for a chat to discuss this potential move.  He clearly wants to be here, looks much fitter than i have seen him before and he impressed me with his maturity and desire to be back at Taunton Town. We have known each other a long time, in life we all learn and i believe Jamie has learned a lot and will come back to us as a better person. He is a class player with undoubted talent and hopefully help us achieve our ambitions."
"Rob, Matt and Steve have done an incredible job so far in securing our new players. We make no secret of being ambitious but we will always do it in the right way and be sustainable."