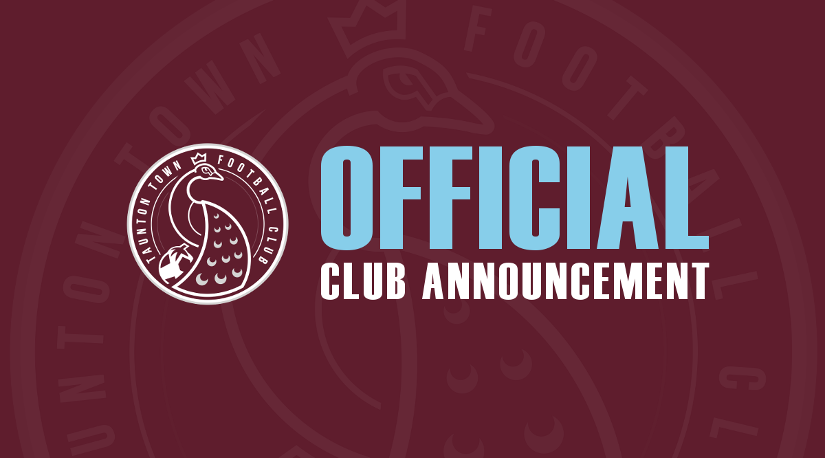 Taunton Town Football Club can confirm an approach has been made for Manager Leigh Robinson and Assistant Manager Michael Meaker to take over the helm at Truro City.
Following discussions between the two parties, the club was informed this morning that Leigh and Michael's desire is to accept the White Tigers offer, which sadly ends their time with Taunton Town Football Club.
The club's board would like to place on record their thanks and appreciation to both Leigh and Michael for leading the club to arguably its most successful period in its history.
Moving forward, it is our strong belief that continuity will continue the club's recent successes. First Team Coaches Rob Dray and Matt Villis will take control of all First Team affairs effective immediately and will be in charge for tomorrow evening's Southern League Challenge Cup Preliminary Round tie against Street FC at the Viridor Stadium.
Chairman Kevin Sturmey commented, "Of course when any one leaves a football club after over six years there will be disappointment but for this time Leigh has been fantastic to work with and the club is in the best shape it's ever been in. We must thank Leigh for his efforts and the success he has brought to the club and town, plus also our thanks to Meaks who has been part of the set up when things were a lot better than the early part of Leigh's tenure. Both of them will go down in the history of Taunton Town as very successful and as a result have moved on to a higher level albeit only slightly and of course our aim is to be in the National League and hopefully higher in the future.
What we need to do now is re-focus and keep moving forward. Rob Dray and Matt Villis will take charge of team affairs with immediate effect with Dave Lukins as our Therapist so not a lot changes. I have total faith in Rob and Matt plus the players are so focused on their football it will be back to normal tomorrow night and on Saturday. Rob and Matt are an integral part of the Management team, as is Dave, so we move on; history cannot be changed and we focus on the future. Sometimes a perceived setback can turn in to a positive as our structure perhaps needed tweaking both on and off the pitch. We aren't inventing the wheel, we just need to fine tune it. The players are the same, Rob, Matt & Dave are the same, the Board is the same – we now need to deal with the future and recruit to complement what we have, not knee jerk, react and rush to appoint.
I'm not always conventional in my thinking and while I am sure there will be a lot of people interested in coming to the Viridor Stadium it has to be right for the current Board, Management and also the players. They are the ones who have achieved for us in the last two seasons. I believe in our players, trust them as players and respect their knowledge about football as too often players are ignored by people who really have no experience of playing or being involved in sport at a good level. They also know how a dressing room works and if you have never been part of that it is a very different place to what people think.
We are one big family here and I believe those values will stand us in good stead to bring in the right person or people to add to what we already have. Rob in his time here has been fantastic and does so much behind the scenes to keep it all together which allowed Leigh and Meaks to focus on their roles. Matt Villis has also been excellent and will grow in to his role even more as when he had to retire from playing I said to him I wanted him to be involved as he has had a great career and so much knowledge.
We are in a great position having worked so hard to be where we are and we will make the right decisions moving forward as football and sport is so different to the old days. There is so much science involved and we have an expanding team of three Volunteer Sports Scientists plus the technology to give our management team new and old the tools for more success. Plus the media team is also growing and helping add to our fan base with their excellent work. Our future is still very bright and the future is claret and blue!"
Rob Dray remarked, "Today is the end of a fantastic management reign in the club's history and personally  I would like to thank Leigh for bringing me here. We've had a great working relationship along with Meaks, the dynamics worked and had some great success in the last two years.
We are not broken – Matt and I will provide the stability and continuity for this great club and thanks to Kevin and the directors for entrusting us to take things forward. We are in a great position in the new division, fantastic growing fan base and importantly for me a great Chairman and board who are a constant source of support to us both. So the message is nothing changes, we have the same philosophy as Leigh and Meaks which is simply winning games of football."
Matt Villis added, "Firstly I'd like thank Leigh for bringing me in to Taunton Town management team and secondly to Kevin for giving me the opportunity to continue pushing this club forward."