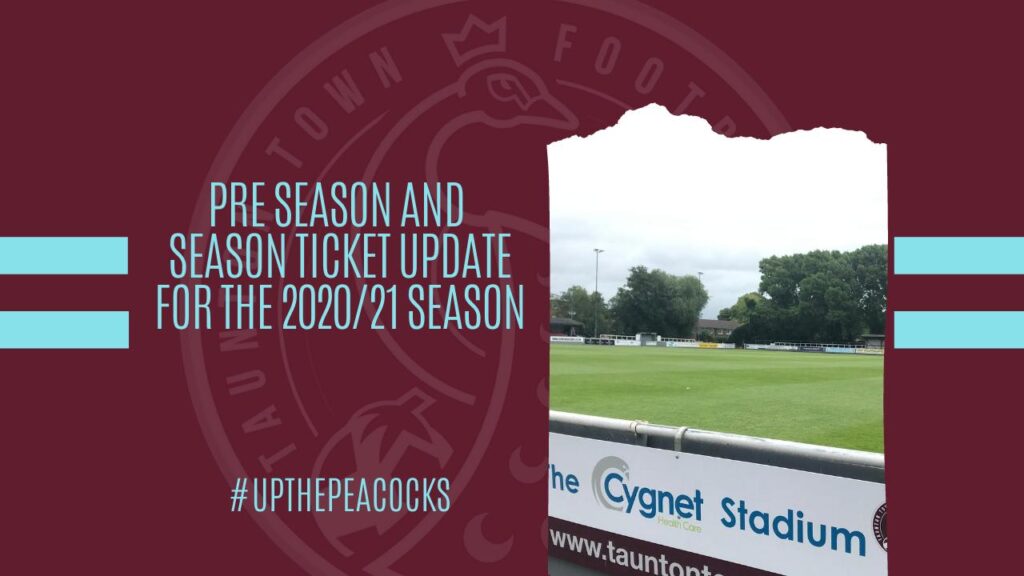 Further to the announcement last week regarding how to reserve a Season Ticket and the consequent guidance issued by the FA, Chairman Kevin Sturmey gave tauntontown.com an update on the current situation from the club's perspective.
He commented: "There does seem to be some confusion around when and how fans will be able to attend sporting events moving forward. At present the view of Taunton Town is that it is not possible for fans to attend games, even though we have all started planning to see how we can safely "manage" our Stadium on match days. I think the confusion has been created by the FA stating a planned resumption date which is different for us and other Leagues when previously the aim was for all Leagues to start at the same time with the FA Cup beginning on 1st September. The FA only seem concerned about the start dates of the FA Cup 1st Round Proper and the 3rd Round Proper because of the entry of EFL and Premier League clubs at that stage. It is no wonder in Non-League we feel we are the extremely poor relations to the professional game. I feel the FA Cup could have been played every week in October as it can be such a life changer to Non-League clubs but starting so early could be a lottery for many clubs.
Regardless of that, any start dates for competitive football need to have caveats in that it has to be safe for everyone and those dates as far as we are concerned are not guaranteed. Therefore, as far as we are aware there will be no fans in Stadiums until we get clear authority from the FA once approved by the Department for Digital, Culture, Media and Sport."
Although the wheels are turning towards the resumption of football for the club, further information is awaited from the FA. Peacocks supporters can help in the meantime by reserving a Season Ticket. As confirmed last week, reservation prices are £80 for Adults (18-64 years), £60 for Concessions (State pensioners and students with ID) and £40 for Juniors (14 to 17 years), with the balance payable for the full price (to be confirmed) once further details are clarified from the footballing authorities. Payments can be made via BACS, cheque or by card to Finance Director Alan Slade who can be emailed finance@tauntontown.com or phoned on 07900 897249.
The Chairman continued:" What we do know with the current situation is that our ground capacity will be reduced and while there is plenty of room, the number of seats will be limited as it's impossible to socially distance in all stadium seats. Again, I urge people to buy a season ticket as with that ticket for this coming season you will be able to reserve a seat if you wish. We will also look at a two payment method as well if that helps some people with budgeting. I am currently discussing the best options with Alan. A season ticket will give a great saving over the whole season, effectively giving you a number of games free, so let's hope soon we can soon all enjoy our days at the Cygnet Health Care Stadium again. We have all had to change how we manage our lives and moving to cashless payments will be the future but it will also be a lot quicker and easier to present a ticket or season ticket at a turnstile than exchanging cash which is being discouraged during Covid-19.
To confirm our present view, we don't believe fans can attend matches and while we have a lot of potential friendlies lined up, they are all subject to change once we know for absolute certain when our season will start. Take care and stay safe as while we are coming out of a Pandemic we are not totally clear and we must all take responsibility so that when the season does start it's not interrupted by a second wave which will be disastrous for Non-League football."