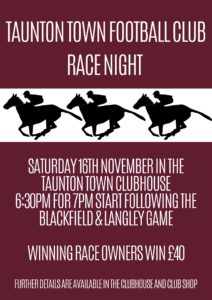 Taunton Town F.C will be holding a 'Race Night' on Saturday 16th November in The Cygnet Health Care Stadium Clubhouse.
The event is 6.30pm for 7pm following the Blackfield & Langley Southern League South Fixture.
Horse Ownerships are still available for £10 a Horse with winning Race Owners receiving £40. Pop into The Club Shop or Clubhouse for more details and support The Peacocks on the night.