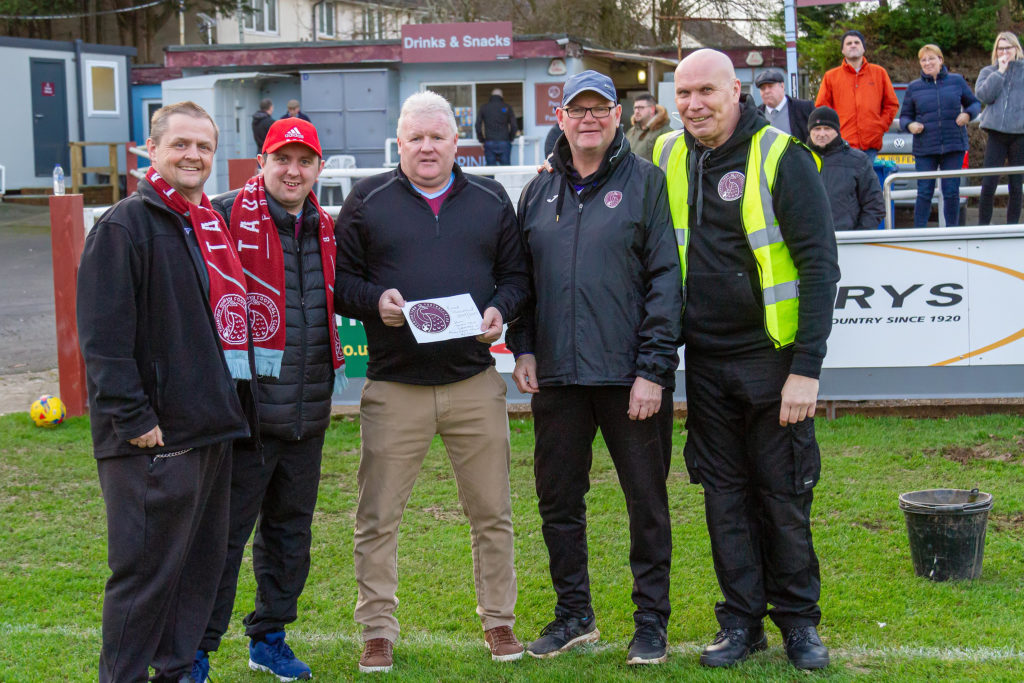 Taunton Town Supporters & Peacocks Away Travel Group are proud to announce sponsorship of five first team players. The move comes following the success of the recent Race Night held in the clubhouse and as a result a healthy sum of £500 will be used solely in funding players' kit.
The five players selected for sponsorship are captain Matt Wright, Shane White, Lewis Hall, Dan Sullivan and new loanee Ryley Towler. Chairman Kevin Sturmey, who was presented with a cheque before last Saturday's game against Gosport Borough at the Cygnet Health Care Stadium, commented:" A massive thank you to the Taunton Town Supporters & Peacocks Away Travel Group.This is a fantastic gesture and one which we are extremely grateful for. This donation from the supporters themselves speaks volumes about what Taunton Town F.C means to them and is a massive boost for me personally as this will considerably ease some financial burden".
Pictured left to right are supporters and Away Travel Group members Darrell Gillett, Pete Taylor and Willie Whitelaw, Chairman Kevin Sturmey and Away Travel and Match Day Co-Ordinator Rob Wenham.