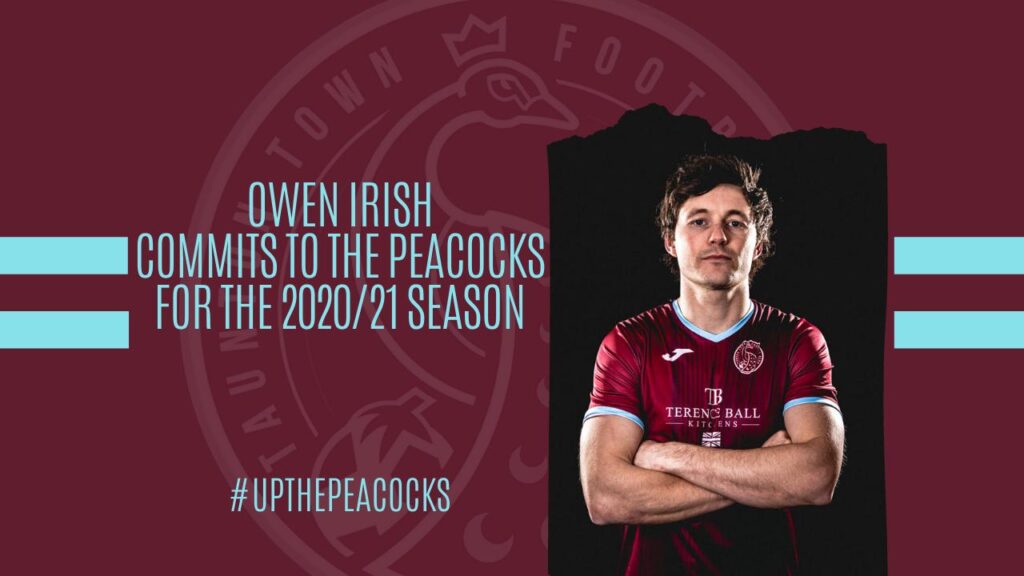 We are very pleased to report that club stalwart Owen Irish will be returning to the squad for the new Southern League season.
A familiar figure at the Cygnet Health Care Stadium, Irish made his debut for the Peacocks as far back as 2008 after signing from Yeovil Town. A bad leg break in 2010 put him out of the game for a year but upon his return he went on to become a mainstay at the heart of the defence for six years until his departure for Tiverton Town in late 2017. He then had a spell away from the game but reappeared for the Peacocks earlier this year, making two cup appearances in the truncated 2019-20 campaign plus a loan spell at Bridgwater Town. To date he has made 299 full and 11 substitute appearances for the Peacocks and weighed in with 35 goals.
Irish told tauntontown.com:" It's awesome to be back with my hometown club where I have so many fond memories. It's been great to how well the club has progressed under the guidance of Drayer, Matt and Meaks, however it has been tough watching from the sidelines. I feel like I have a few more years in front of me and am looking forward to working hard and getting to know the new lads that have recently signed. I'm under no illusions that I've got some catching up to do, however I have never been one to shy away from the challenge".
Head of Football Rob Dray added:" Owen is undoubtedly an absolute warrior and club legend, and has always had something you can't bottle, so in the conversations we've had in the last few months it was always going to happen to get him back in! By his own admission he has a bit of catch up to do after being away from this level for a while, but Owen's attitude and mentality is always spot on so it's good to have him involved."
Pleased to see you back in the fold Owen!