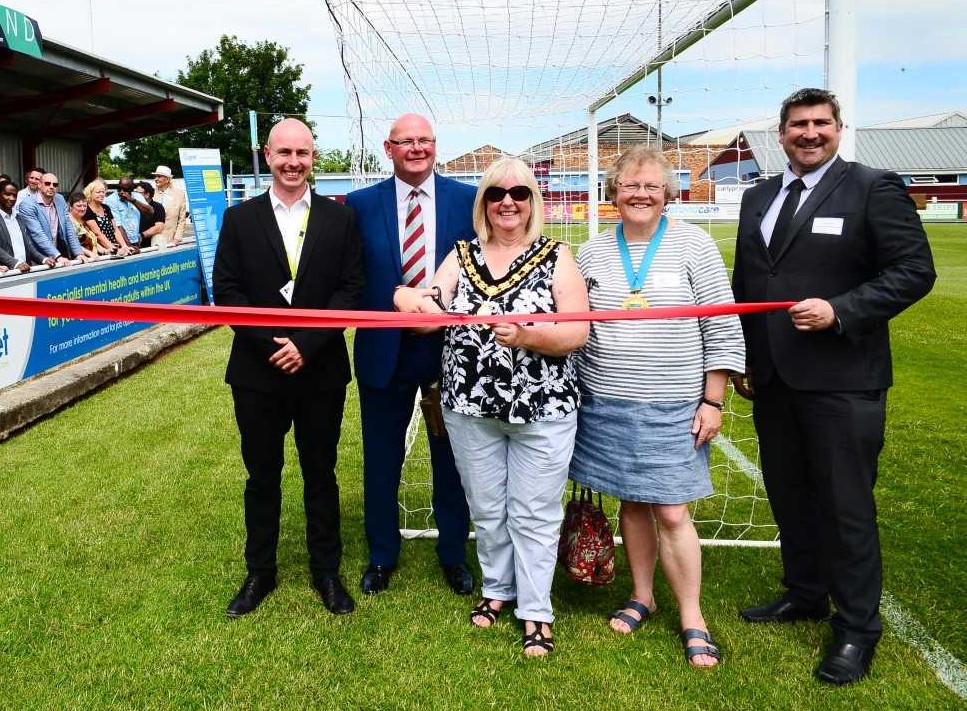 Taunton Town Football Club is delighted to announce a two-year agreement with Cygnet Health Care as its new sponsor for the Wordsworth Drive Stadium. Following the partnership, the ground will now be known as 'The Cygnet Health Care Stadium'.
Cygnet Health Care, who own Cygnet Hospital Taunton in Orchard Portman, provides a wide range of services for individuals with mental health needs and learning disabilities across the UK. Mayor of Taunton, Cllr Francesca Smith cut the red ribbon at an event at the ground on Friday (5th July) to mark the start of the partnership, with guests including representatives of Cygnet Health Care, Cllr Hazel Prior-Sankey, Chair of Somerset West and Taunton (SWT) Council and James Hassett, Chief Executive of SWT Council, amongst other local business owners.
Speaking on the deal, Chairman and CEO of TTFC, Kevin Sturmey said;
'I am delighted to be working with Cygnet Health Care in what is going to be a very exciting partnership. As a club, we feel that Cygnet is a perfect sponsor for TTFC, with their understanding of the positive effect that sport has on mental health and wellbeing.
This is not just about the stadium naming rights – this is about developing relationships in the wider community and using football to help break down barriers. We are very proud to have built a family friendly club in the centre of Taunton, where everyone feels comfortable supporting their local football team and we will continue to make improvements to the ground to further enhance the match day experience.'
Rowan Marriott, Head of Resourcing at Cygnet said;
'We're really proud to be launching our partnership between Cygnet Healthcare and Taunton FC. A big part of this is about supporting the communities in which our services sit and in doing so, building strong relationships it makes it easier for us to help the people we care for access the local community and become an active part of it. We feel we share the same values and are really excited about this special opportunity and wish Taunton FC all the best for the coming season – Up The Peacocks!'
The photo shows L-R:
Rowan Marriott, Head of Resourcing at Cygnet Healthcare
Kevin Sturmey, Chairman at TTFC
Cllr Francesca Smith, Mayor of Taunton
Cllr Hazel Prior-Sankey, Chair of SWT Council
James Hassett, CEO of SWT Council
Photo Credit: Steve Richardson
Please contact Livvi or Sharon Grant at Daffodil PR on 01823 461463 or hello@daffodilpr.co.uk for more information.