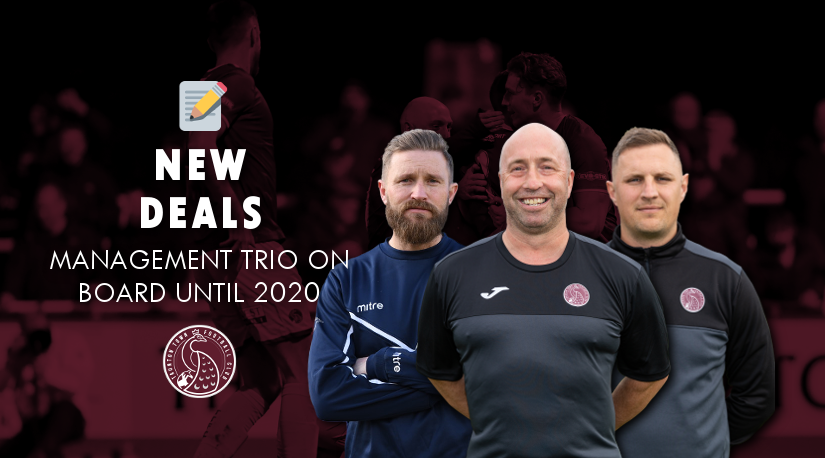 Taunton Town Football Club is delighted to announce Head of Football Rob Dray, First Team Coach Matt Villis and Technical Coach Steve Perkins have all penned new deals that will see them remain at the Viridor Stadium until 2020.
Following the departures of Leigh Robinson and Michael Meaker to National League South side Truro City in September 2018, the club moved to install Dray and Villis at the helm with immediate effect which saw them step up from their roles under the previous management.
Rob and Matt have proved to be a huge success as a management duo. The club supported Dray's desire to appoint Perkins in November 2018 who has brought with him a wealth of expertise to the clubs coaching staff. The trio have guided the club to the top of the Evo-Stik South Premier Division with 11 games remaining of the campaign and the Board of Directors wanted to ensure they would remain with the club.
Following the news Rob Dray remarked, "It's a massive privilege to agree a contract with this fantastic club and continue the work that we have started with the players, the Chairman, board of directors, sponsors and of course our ever-growing fan base. We have a fantasy opportunity to build a legacy here which is plain for all to see after all that has been achieved in the last couple seasons. The hard work actually starts now, in this game if you stop and pat yourself on the head you start going backwards and with this management team and this group of players, we will do our utmost to bring continued success."
Matt Villis commented, "I have really enjoyed making the transition from player to becoming part of the management team at Taunton Town Football Club. It's been a brilliant season so far surpassing all expectations. I'd like to thank Kev and the board for rewarding me a new deal. The players have been a pleasure to work with and have gone to new levels. I'm really excited to see what the remainder of the season bring us."
Steve Perkins added, "I'm delighted to commit for next season.  Since day 1, I've been made to feel very welcome by everyone. The players have welcomed some new ideas that have been introduced and their togetherness and determination to succeed has been fantastic.  The management have worked tirelessly behind the scenes in planning each game to steer the team to the position we currently sit in and the support from the fans and board make this an exciting place to be and I look forward to what the future may hold."