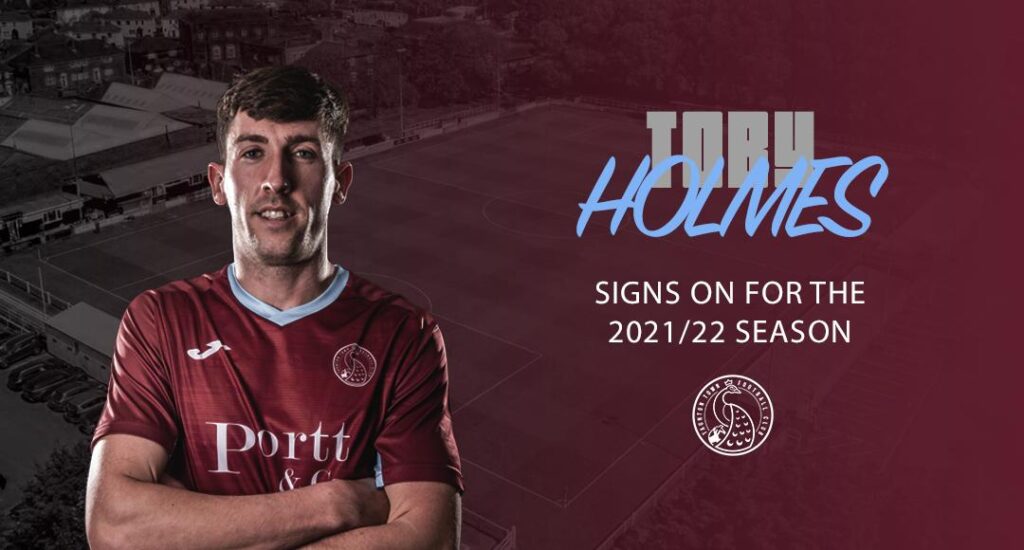 After a quiet weekend due to the Social Media boycott in which we stood firm with clubs up and down the country against online abuse, there is an exciting week coming up as over the next four days we will be confirming another player each day who has committed to the Peacocks for next season!
First up it's the news Town fans wanted as we are delighted to announce that top striker Toby Holmes has agreed terms to stay at the Cygnet Health Care Stadium for 2021-22. The 28 year old forward joined the Peacocks last summer from Salisbury and made a huge impact in his first campaign, scoring 11 goals from just 11 full appearances.
Toby told tauntontown.com:" Me and Rob have been speaking regularly about all things football and when he mentioned about staying and extending my contract for next season it was a no brainer. The lads have been great and if we can keep the group together that we've got, there is definitely more to come from us. We had a decent start to last season, and everyone bought into the way Rob wanted to do things and I think you could see that in the performances. Everybody involved at the club behind the scenes and of course the fans were very warm and welcoming which always helps when you move to a new team and hopefully everyone could see I was enjoying my football at Taunton. I had a great start personally on the pitch and I'm looking forward to getting back to it as soon as we can and try to push ourselves to be at the top end of the table next season ."
Holmes was a prolific scorer in Southern League football for several seasons before linking up with the Peacocks. After spells at Parley Sports, Poole Town and Dorchester Town, his reputation soared when he joined Wimborne Town in 2016 where in a three year stint at the club, he scored 132 goals from just 143 appearances and won the Southern League Golden Boot award in 2017-18. He signed for Salisbury in 2018 and netted 21 times before the season came to a premature end, and he has maintained his goalscoring prowess with the Peacocks with some classy finishing.
Head of Football Rob Dray was equally pleased, saying:" Toby has yet again shown why he is one of the best goal scorers in the division, if not the best. 11 goals in 11 games before we were curtailed, his attitude is nailed on and his work rate is crazy. We need to score goals in this division and Tobes is superb and fits the bill perfectly."