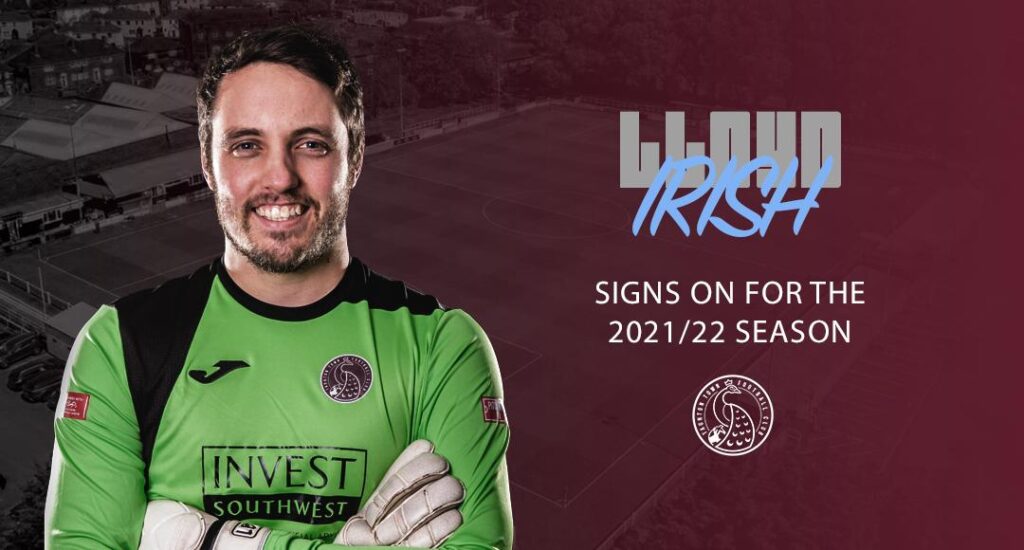 We are delighted to announce that goalkeeper and club captain Lloyd Irish is the third player to commit to the Peacocks for the 2021-22 season, making it a hat trick of captaincy confirmations following in the footsteps of team captain Nick Grimes and vice-captain Dan Sullivan.
Lloyd told tauntontown.com:" I'm delighted to have been offered a contract extension at Taunton Town, and I'm really looking forward to getting back at it with this great bunch of lads and players that Rob, Matt and Meaks have put together. It's been a very frustrating couple of seasons for all involved and I really hope it's not long before we can all be back playing and watching football together. This team that Rob has assembled is the strongest that I've been involved with at Taunton, and I feel confident that we can give promotion a good go next season!"
Irish is currently our longest-serving player, having racked up an impressive 369 full and one substitute appearance during his two spells at the club. He made his debut in a home defeat to AFC Hayes in November 2008, leaving in 2010 to spend several seasons at Weston-super-Mare before he returned in October 2014. Since then he has been virtually a permanent fixture in the side, missing only seven games during the 2018-19 campaign.
Head of Football Rob Dray added:" Lloyd first and foremost is one of the top keepers in non-league football in the south-west but also a fantastic servant to the club, and will no doubt go down as a club legend when he finishes his career. It's great to have him on board for another season."