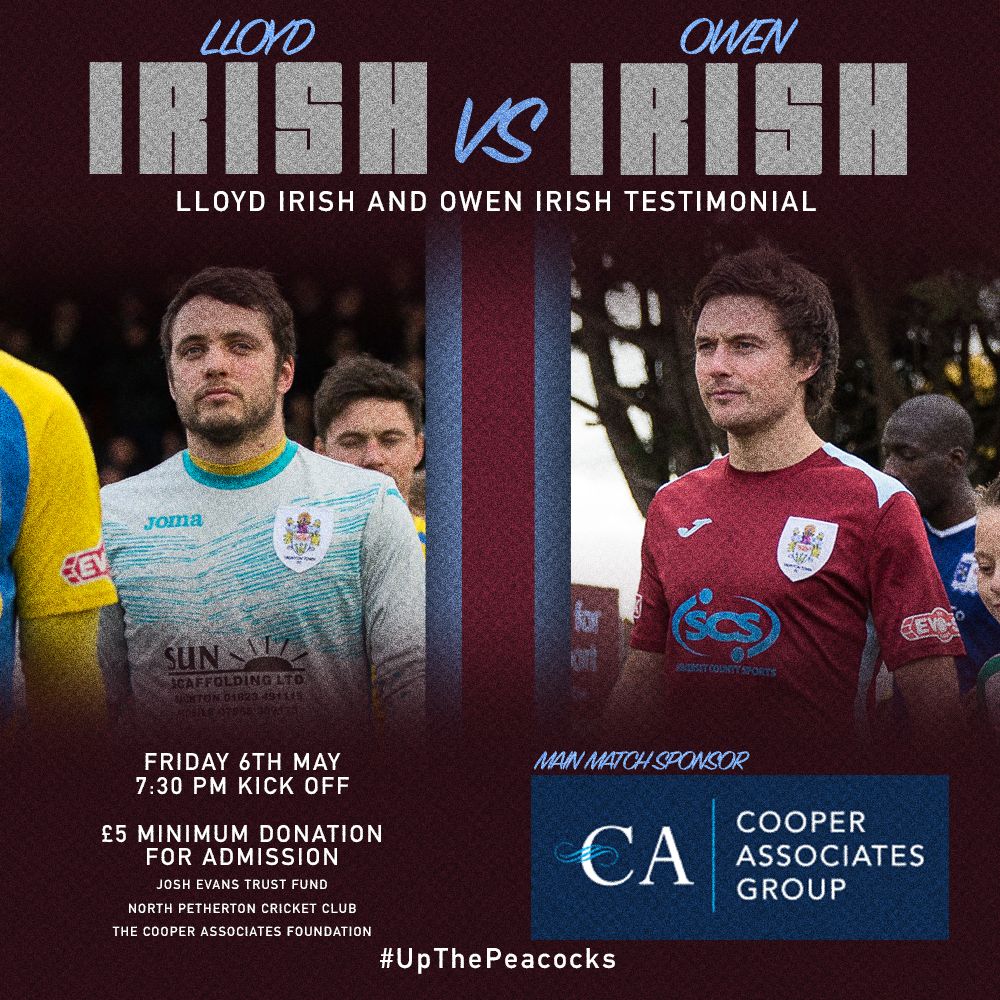 There will be a chance to catch up with some Peacocks from recent history when the testimonial game for club icons Owen and Lloyd Irish takes place at the Cygnet Health Care Stadium tomorrow evening (6th May), ko 7.30pm
The match, which is being kindly sponsored by Cooper Associates, will be between a Lloyd Irish XI and an Owen Irish XI, with both teams including a number of well-known faces. Lloyd's XI will be managed by current Head of Football Rob Dray and ex-assistant manager Paul Short, with the team including former Peacocks' captain Jamie Price, centre half Chris McGrath, current assistant manager Matt Villis and midfield maestros Brett Trowbridge and Ben Kirk. Owen's team is no less impressive, being overseen by England cricketer Jack Leach and the club's former assistant manager Mo Hopkins whilst the team boasts the likes of ex-Yeovil manager Terry Skiverton, strike pairing Jordan Rogers and Craig Veal plus the talents of former local midfield men Rodney Marsh and Simon Ingram. There will also be a host of other former players that fans will be familiar with so do come on down!
Donations from the proceeds of the game will be made to the Josh Evans Trust Fund, Cooper Associates Trust Charity, and North Petherton Cricket Club, with admission to the game being via a minimum donation of £5 but larger donations would be gratefully received. Admission is payable at the gate by CASH ONLY although all bars, food outlets and the club shop accept either card or cash inside the stadium.
Lloyd told tauntontown.com:" On behalf of us both, we are extremely grateful to Taunton Town FC for giving us this testimonial match. I think if anything sums up how Kevin, Rob, and everyone else at the club look after their players then this would be it. We have also been lucky to play in front of such great supporters here at Taunton and we would be extremely grateful if you could turn out one more time to show your support and help us raise money for our three chosen charities, all of which are close to our hearts. Thanks once again to Cooper Associates for sponsoring the match, Taunton Town for the use of the facilities, our team sponsors and match ball sponsor, and of course to all of the players for making the effort to make Friday night a special occasion for us. We hope you all have a great night."
Owen and Lloyd made their Peacock debuts in the same game back in 2008 and went on to enjoy long and distinguished careers with the club and become firm favourites with the Town supporters, both going on to make over 300 appearances apiece, Lloyd making 377 and Owen 310. The testimonial is well-deserved for the pair to recognize their wonderful service to the club so please come down and support what should be a very entertaining evening.