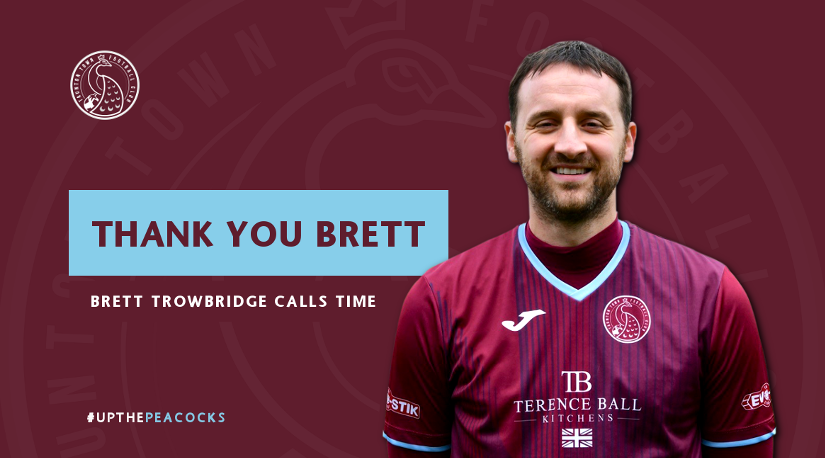 Taunton Town Football Club is saddened to report the retirement of Brett Trowbridge.
Brett has had a distinguished playing career starting his journey with home town club Bridgwater Town where he was a member of their play-off side of 2010. Trowbridge then moved to National League South club Weston-super-Mare for four years until signing for Town for the 2014-15 season. After a short stay at Yate Town he later re-joined the club in February 2016 and was then appointed club captain for the 2016/17 season where he led the Peacocks to the First Round of the FA Cup, a memory that will live long in the memory for all our supporters.
The following season Brett was again a key part of the squad that lifted the Evo-Stik West title by a margin of 19 points until he suffered an unfortunate facial injury that kept him out of action for the second half of the year. During this summer Brett moved to Street FC for a stint before returning to the Viridor Stadium putting in an number of composed performances before an untimely injury meant he was unable to continue with his playing duties. Trowbridge made a total of 129 appearances for the Peacocks and scored 5 goals in that time.
Everyone one at Taunton Town Football Club would like to thank Brett for his outstanding contribution for the club and wish him all the best for the future.
After informing the club of his decision Trowbridge said, "Thank you to everyone at Taunton Town but it's time to call an end to my playing career. I have been struggling with injuries for a short while now. I also have a young family that I wish to spend more time with and I feel the time is right to call it a day. I wish everyone at the club huge success in the future".
Rob Dray added, "There aren't many people that become true friends in the game but Brett is one of them. Ever since I had him as a Teenager at Bridgwater Town Reserves he was the consummate professional. He never complained and was superb. He became a dominant force in the National League for Weston and now for Taunton. He will be missed around the place but I totally respect his decision. Good luck to Brett, Jodie and Pheobe."