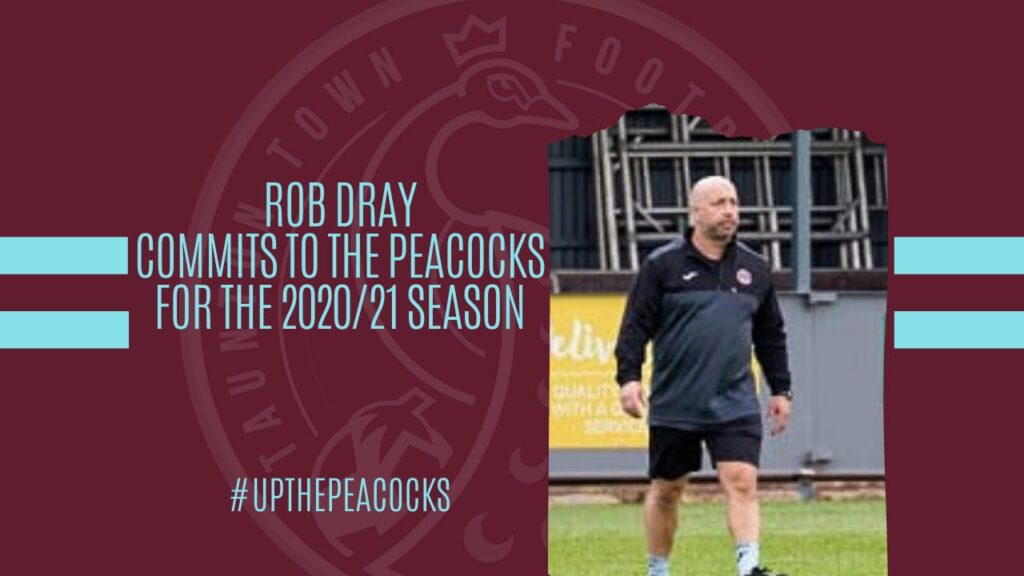 The club are delighted to confirm the reappointment of Rob Dray as Head of Football for the 2020-21 season.
Dray has been part of the management team since the summer of 2016, taking over the reins in September 2018 and guiding the Peacocks to runners-up spot in their memorable first season at Southern Premier level. Town were also well-placed to push for a place in the Play-Offs last term until proceedings were brought to a halt by the coronavirus pandemic.
Commenting on his continuing tenure at the Cygnet Health Care Stadium, Rob said:" It has always been an honour to represent this great club and in these uncertain times when there are more important things occurring, we hope as a management team and group of players that on the return of non-league football we can provide a little normality for our fantastic supporters.
For me personally I'd like to thank Kev and the rest of the Board for letting me continue our journey. I have the best job in non-league in the area, fact! Continuing to evolve on and off the pitch in every capacity as always is our priority and hard work is an absolute must and something that never frightens me. We have a great looking squad this year and now we have a degree of clarity we can look forward to getting going and seeing you all at the Cygnet very shortly."
Chairman Kevin Sturmey remarked:" I am delighted that Rob and the Board have agreed terms for next season. It may seem strange to some people to announce it now but it was simply because Rob wanted to concentrate on building the squad first and with all the uncertainty surrounding the pandemic it was something we felt, while very important, was just a matter of dotting i's and crossing t's.
We now have agreed the terms for Rob, and we are excited for him and the squad to get going when it is safe to do so. There won't be many harder working people in football than Rob, he has a great network of contacts and probably could have put together three squads this summer! One thing people never see is how much work Rob does both before and after the season. In general, he will do 8 more weeks than anyone else, four weeks before the season and four weeks after. He is working on the same budget as last season but like the whole world we need to be fluid in our thinking. We need to be able to continue growing our fan base to help fund us so ideally we need fans with no restrictions when it is safe to start. "
The Chairman also gave some positive news regarding training for next season, continuing:" Organising everything does not just happen, there is so much to do behind the scenes. At last we will have consistency with a training venue as thanks to our Education Partner Bridgwater & Taunton College, all pre-season and in-season training is now set up. This has been a nightmare scenario for us for so long and in my humble opinion not to have facilities in the County Town for us to use is madness but hopefully one day we will have our own training facility. We will be using the excellent Bridgwater Campus which is great but of course Taunton is our home and surely with the population growing and houses springing up all around the town there should be better and more leisure facilities. A training ground will be a community hub and will help the whole community – watch this space!"