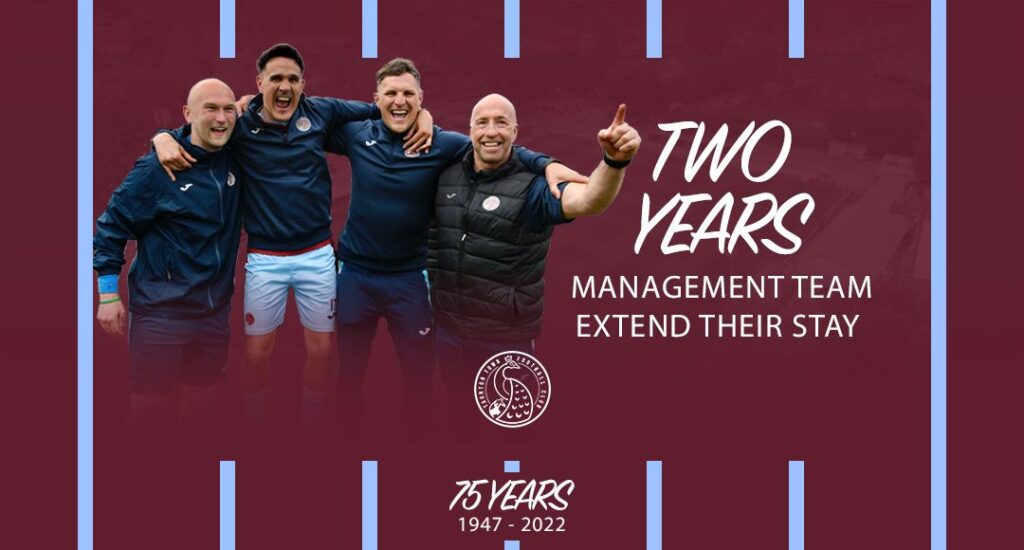 We are delighted to announce that the management team at the club have all been rewarded with two year agreements following the fantastic success of last season. The team of Head of Football Rob Dray, Assistant Manager Matt Villis, Coach Michael Meaker, Goalkeeping Coach Connor Sidley-Adams, Sports Therapist Anthony Cornish and Sports Masseur Paul Edwards have all been secured until the end of the 2023-24 season ahead of the club's debut in the National League South in less than two months' time.
Dray and Villis took the over the reins at the club in September 2018 and have performed a superb job since then, steering the Peacocks to runners-up spot in their first season at Southern Premier level and then, after two terminated seasons due to Covid, landing the championship in April to bring Step 2 football to the Cygnet Health Care Stadium for the first time, ably assisted last season by UEFA 'A' coach Meaker and former England Schools U18 goalkeeping coach Sidley-Adams.
Speaking about the extension to his tenure, Rob told tauntontown.com:" There have been many things said about last season and will continue to be over the years. It was a miraculous season in so many ways and of course the players should take the lion's share of the plaudits as they truly performed miracles, but our club has an awful lot of moving parts these days. Our growth over the last five years is incredible; every step of the way on the pitch we have been matched, by Kev, Brian, Alan and the board, the media boys, Lee and the shop, our organised army of volunteers, and of course our ever growing fan base. With this announcement it's only correct to say that firstly I could not do what I do without the aforementioned moving parts, and it is said you are only as good as your staff, and this is true. Matt, always on the end of the phone, experienced, calm, and brutally honest; Meaks, tactically astute, watches a superb game from a coach's standpoint and again massively experienced; Connor, a fantastic young coach whose relationship with Busey was plain to see, and our medical team of Tony and Eddie who had a big job last season but worked wonders to keep a competitive team on the pitch!
Finally, personally I cannot thank the board enough for backing us this summer in our recruitment and rewarding us with two year deals. Stability and continuity have always been the key to success, and this has shown in our club in its recent history. Now onto next season at our highest level ever, we will embrace it, be humble, but nobody will take liberties. UTP 🦚."
Chairman Kevin Sturmey commented:" I am delighted to secure the management team for the next two seasons. The management have always put themselves last when it comes to the budget, but now they deserve to be given some added security. The players can't do the job without the management and vice versa. Going up as Champions of probably the hardest Step 3 League in the country is incredible as there were so many good teams and probably ten at the beginning of the season that could have been Champions which shows what a great group we have.
As a club we don't always do things the way they have always been done as I am a firm believer in pushing boundaries at all times and when we made Rob Head of Football it raised a few eyebrows as a lot of people just think Manager is the only title. But it has proved to have been the right decision and in my humble opinion is the way forward as it has allowed Rob to build a backroom team who all have specific roles and who all have contributed massively to not just last season but the last three completed seasons when we have finished 1st, 2nd and 1st. Rob, Matt, Meaks, Eddie and Anthony have all been with the club for many seasons and Connor was a former goalkeeper in the Youth Team so everyone understands where we have come from but more importantly where we want to get to. I am a great believer in promoting from within as we are not a club that just looks at history, we look beyond that and need to always make sure we have the right characters to keep growing. Rob and Matt took on the reigns and took us to within one point of the championship in their first full season, and after two aborted seasons this was the first full season for them and to win this league is nothing short of remarkable.
Building a team on and off the pitch is vital to success and I think in many ways we are unique in our outlook, experience and the fact we all "muck in". Hard work will always come before success and this Management group continually work hard to bring in not only quality players but also quality characters who will go beyond the norm to achieve success. Let's now get the whole of the Town behind us and more of Somerset and really build this club even further in to our community and beyond."