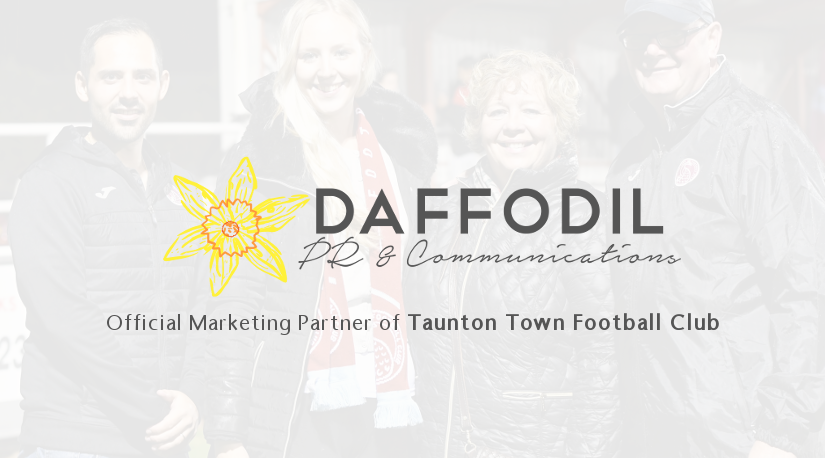 Taunton Town Football Club has selected Mother and daughter duo, Sharon and Livvi Grant of Daffodil PR & Communications as their official club marketing partner.
The club, based at the Viridor Stadium on Wordsworth Drive, will be working with Daffodil PR to attract new sponsors to the club, increase spectator numbers and drive forward the club's vision.
Speaking on the partnership, Club Chairman Kevin Sturmey said, "This has been a whirlwind relationship with Sharon and Livvi Grant from Daffodil PR & Communications who first came to watch the match against Chesham United in mid-September. I wanted to get a totally unbiased opinion on what Sharon and Livvi saw at a home match with no pre-conceived ideas. It was totally refreshing to hear their unbridled passion for what we have achieved in building the club over the last few seasons. But we want to keep raising standards, get deeper in to the business community and also the Taunton community. With Daffodil on board this will allow me more time to meet more people with Sharon and Livvi opening up more doors and avenues for Taunton Town Football Club. Their energy, enthusiasm and desire to help make the community proud of their Town and everything within it is infectious and I am sure this is just the start of further growth for the Peacocks".
Sharon Grant, added, "Livvi and I are delighted to be working with Taunton Town Football Club on driving their vision forward. The Peacocks are the top of their game, competing in the Southern League Premier Division South and winning games left, right and centre. Each time we've attended a game we've left feeling immensely proud of our town and the team, and we want to encourage more people from the Taunton area to come and support their local team. We will also be working with the club to attract more sponsors."
Taunton Town beat St Albans City on Wednesday (10th) night and book their place in the next round of the FA Cup. They will now travel to National League South leaders Billericay Town on Saturday, October 20.
For more information, please contact Livvi Grant or Sharon Grant of Daffodil PR & Communications on hello@daffodilpr.co.uk or 01823 461463.