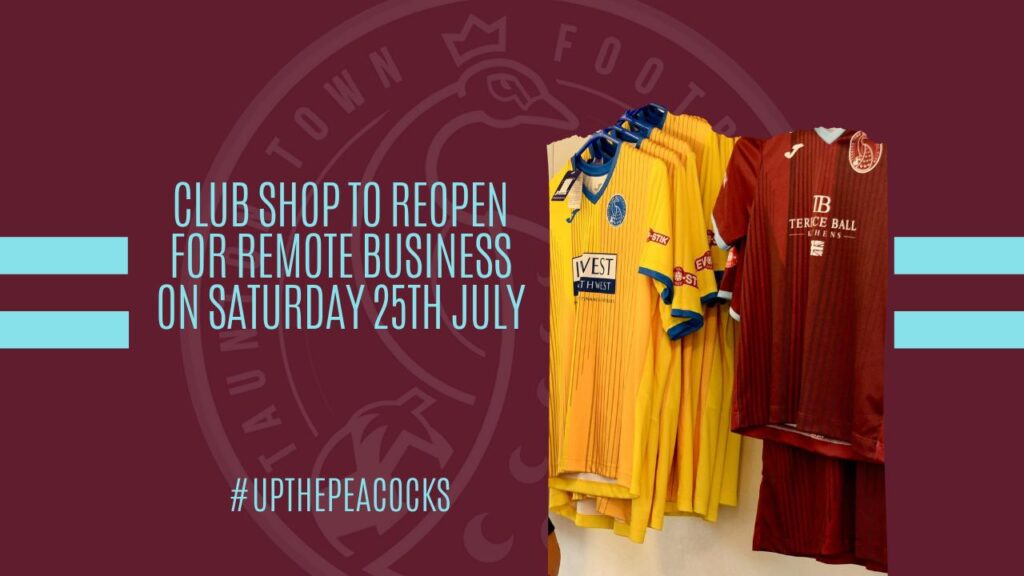 Taunton Town F.C are delighted to announce the Club SHOP is reopening for 'Remote Business' from tomorrow, Saturday 25th July, in conjunction with an exciting new concept enabling Peacocks' Supporters to support the SHOP & Club itself plus the launch of four new exciting products & sale. 
Whilst supporters and customers are not permitted to enter the Cygnet Health Care Stadium at present and the SHOP itself is unable to welcome customers for 'Business as usual', the Club SHOP management team have worked hard with Club Officials to find a solution during the pandemic.
From tomorrow, customers will be able to purchase items from the Taunton Town F.C Club SHOP by card (no cash payments) by following these simple steps….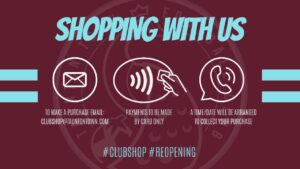 The Club 'SHOP' is defined as a vehicle for fans to support the squad and club itself, highlighting the importance of the Peacocks supporters and recognising their continued ongoing support.
'SHOP' will now incorporate the Club SHOP itself, the Away Travel Group & future Supporters Fundraising events.
This link is identified by the acronym – 'SHOP- Supporters Helping Our Peacocks'.
New products available include the Taunton Town F.C Face Coverings, Thermo Travel Mugs, New Club Crest Car Stickers & 2001 F.A Vase Winners signed photos with the signature of Peacocks' legend Paul West.
Pricing for these and all current products can be found on the Price List below.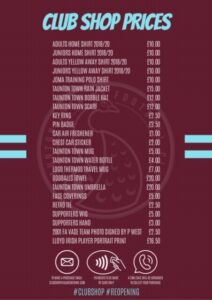 Full details of the customer purchase process from the Club SHOP can also be found below.