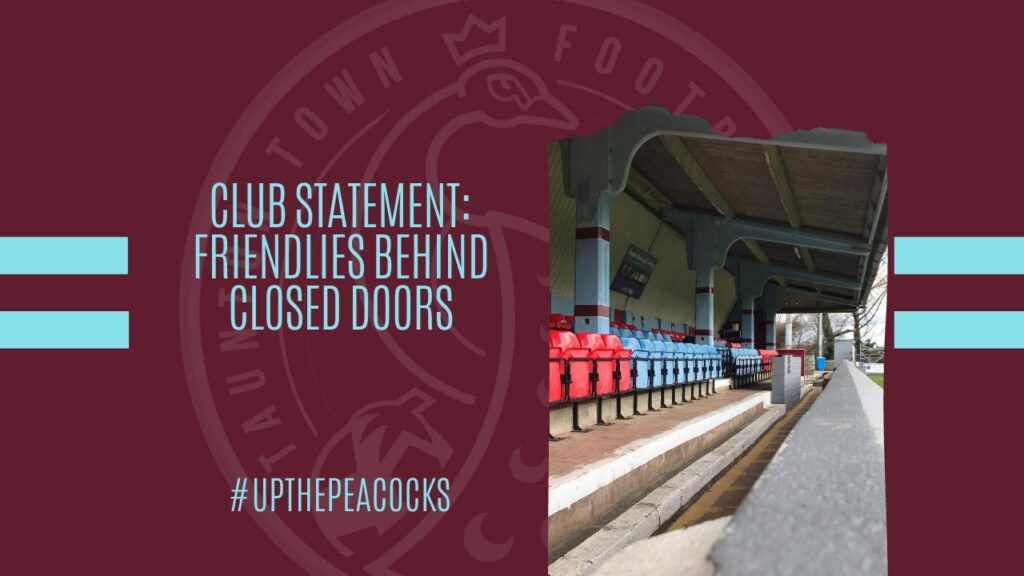 As reiterated in a letter from the FA earlier this week, all pre-season friendlies involving clubs at Steps 1 to 7 of the National League System must be played behind closed doors.
The Peacocks begin their schedule of friendlies next week with visits to Clevedon Town on Tuesday and Bitton on Friday, but both matches will be played behind closed doors with strictly no admittance to spectators.
In their letter the FA stated:"The guidance released by The FA on Saturday, 18th July was clear that all friendlies with National League System Clubs should be played behind closed doors. This has not changed. Over the weekend, as clubs returned to pre-season competitive fixtures, we understand some fixtures were played with spectators and, in a small number of cases, with a crowd in excess of 100. The guidance regarding gatherings is a clear Government issued position and as such we must re-emphasise that ALL National League System pre-season fixtures should be played behind closed doors."
With increasing scrutiny on the application of this directive from the FA, the club respectfully requests that any supporter who is intending to travel to any pre-season game refrains from doing so to avoid the possibility of any perceived breaches affecting the start date of the season and the hoped for return of fans to watch competitive football, a decision which is still in the melting pot.
The FA continued:" The FA resubmitted a proposal for spectators at National League System & Women's Pyramid games to DCMS. You will be aware that Government suspended the test events for the return of spectators under Stage 5 of the Elite Sport Protocols, which much of the NLS does not fall under. As such, we are continuing our dialogue with DCMS separately to the Stage 5 pilot project. The suspension however of the Pilot Events which had low spectator numbers shows that Government are sensitive to crowds of all sizes and as such, crowds at pre-season matches does put the longer term supporter strategies at risk. We are working continuously with the Sports Ground Safety Authority, DCMS, Leagues and colleagues within The FA to bring ultimate guidance for Spectator to return as soon as possible. We are still hopeful of meeting the timescale outlined in our initial guidance, but we do need to do so with the approval or support from Government and therefore during this time ask for your support."