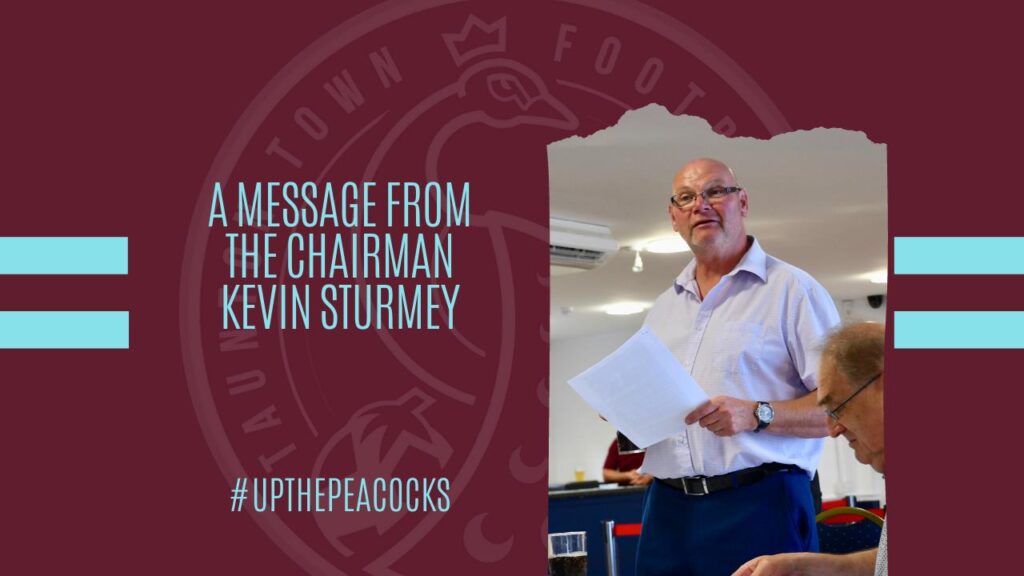 Club Chairman Kevin Sturmey will be speaking to tauntontown.com over the coming weeks to provide updates covering a wide range of topics related to Taunton Town FC and beyond. Here is the second of Kevin's messages in which he assesses the return of Southern League football along with ground developments planned at the Cygnet Health Care Stadium:
"I will highlight some other areas of the football club in this next message to try to keep everyone up to speed with how Covid-19 has affected Taunton Town financially and how we will attempt to adapt to the future. May be put some myths to bed as well!!
I will briefly touch on the playing side. Firstly, to dispel myths and rumours, Brian Pollard is a wonderful, hardworking, and generous Director but he isn't putting £50,000 into the playing budget for next season! We have said to Rob Dray, our Head of Football, to base his budgeting on the same budget as last season, whatever form next season will take.
At present we are no wiser as to when we will play a League match but until all the professional Leagues have completed their play offs, I cannot see how we will know. The Championship Play off final is due to be played on either 2nd or 3rd August. I'm not sure why clubs are announcing friendlies for August as we are still in the middle of a Pandemic with hundreds of people still sadly losing their lives every week. I do not think this helps anyone and is giving false hope as unless you are testing all your staff you cannot have social contact and none of us can play behind closed doors.
I believe the Play off Finals for the National League have to be played by 31st July so that means we are unlikely to know much more about next season until we get further into July and may be more likely August. Those clubs have voted to partake in the play offs but they have to fund all the testing themselves as well as player wages etc, which I believe to be in the region of £20000 to £35000 for each club at Step 2! Morally is that right? With all the money at the top of the game should our most local clubs Weymouth and Bath City really have to set up Crowdfunders to raise this money? I know time is of the essence but with many TV programmes not available due to filming being stopped surely one of the TV companies could show the games live for a one off subscription to help the clubs fund the costs needed to enter the play offs?
We will need notice to arrange pre-season training, then book in pre-season friendlies and finally start playing competitive matches so in my humble opinion we are some way off this. We will need a Guidance Document and clear guidelines from the FA and the Department for Culture, Media & Sport. All clubs who are playing now are having to comply with all Covid-19 requirements and that also costs a huge amount of money so football is not sustainable until it is safe to open stadiums for everyone with testing not required. From what I have seen all of football from the top down will need to start at the same time which is normally the first and second week in August so one week apart. These are the top 10 divisions in England – the Premier League, EFL and National league System down to Step 6. Basically, it is all the teams that can enter the FA Cup if their ground complies.
Through all of this horrible Pandemic one thing has shone through for me and that is sport and particularly football is nothing without fans. Football is so special because scoring a goal is the hardest thing to do as the goal is only 24 x 8 foot and you have the goalkeeper and defenders to get past, so the euphoria of scoring a goal in my humble opinion is bigger and better than any other sporting individual feat especially scoring a late goal to win a match or for that matter two in a few minutes with the match against Salisbury always in my memory bank!
On to things we can influence and as I touched on, Brian has a plan to develop the Stadium as much as possible and now we have planning he has started clearing areas with his team ready to be developed over the next few years. We now have planning permission to build three new turnstiles, permission to enclose the terraces at both ends plus extend those terraces in some places. We are waiting on a Structural Engineers report which will then enable us to firm up on quotes for the steels needed to replicate what we already have in place. Once we have the quotes we can apply for funding from the Football Stadium Improvement Fund and as time goes on we may use Crowdfunders to help towards the extra developments which we will require as we hopefully keep rising up the pyramid. The two main items needed to compete in the current Step 2 play offs for us are the three turnstiles to allow for easy segregating plus 500 covered seats. Over the next 12 to 18 months we aim to have these in place along with other items like better facilities for anyone with mobility problems so it's easy to access the Stadium and have slopes in the ground going the right way, not the wrong way!
Other plans are to extend car parking behind the Invest Southwest End (soon to be renamed once a new sponsor is signed up, my contact is on furlough!), a Ground Equipment Store next to the sand bay, permanent spectator toilets (we currently hire toilets in the "away" end) if we have to segregate. Ultimately, we need to build new changing rooms as while Brian has done a brilliant job in modernising the current home and away changing rooms, structurally they are past their sell by date for our aspirations to be at a higher level. The plan will be to build new changing rooms behind the small Taunton Plumbing & Heating Stand and then possibly build a second tier on top of that stand in future years. When we build anything new, we want to build to Football League standards so we have everything ready for future advancement whenever that may be. The land where the current changing rooms sit has development potential so we hope that will help to be able to fund future stadium development but also retain some freehold investment in that area of the ground.
Finally, finance will be a huge topic every season but due to the premature end to last season the accounts will be even more difficult for every club from top to bottom. We missed out on what is normally the best period of the season as I still believe we would have made the play offs as with 6 home games our support and home form would have kept pushing us forward. All we can base our judgement on is the previous season including the Legends match. In that period last year, we generated turnover of £47430 from matchdays including the bar, shop, and catering donations. Ultimately, we will make a loss last season which is still less than the profit for the previous season. That is due to prudent budgeting and the fact that the club is run 95% by Volunteers who give their time for free to drive the club forward. Without those fantastic Volunteers our club, like all clubs, would not be sustainable.
Ultimately, everyone I speak to from Directors, to staff, to fans and the wider community know this club is a sleeping giant and we are all ambitious because the town is the County Town of Somerset. Taunton will continue to grow in my opinion and therefore if the crowds grow to the levels we need, we will be able to fund higher level football. However, what we need is more people to become fans to get us to those levels and not just come along for "big games" or when we get to the levels we want to. The next two seasons I believe will see strong, well run clubs prosper but unfortunately many clubs may not survive. Because we do not rely on just football for our income it helps us massively as we do still have some income from site rentals, not enough but more than many other businesses."