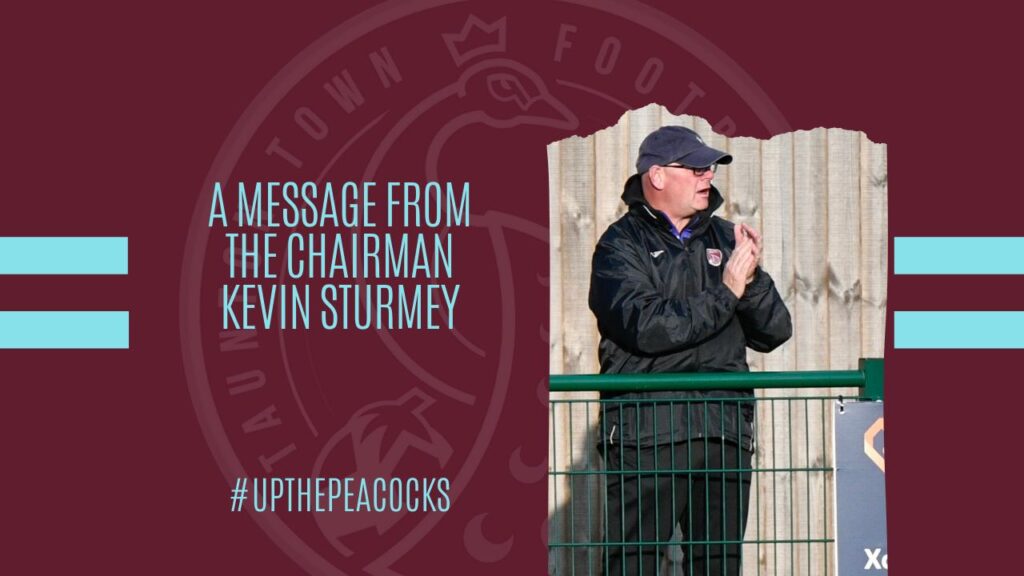 Club Chairman Kevin Sturmey will be speaking to tauntontown.com over the coming weeks to provide thoughts covering a wide range of topics related to Taunton Town FC and beyond. Here is Kevin's first offering which discusses the current situation at the club and the impact of the coronavirus pandemic along with opinions on the structure of non-league football:
"It has been a while since I last made an official statement, 22nd March to be precise. The last three months have flown by and while there has been no football the job list seems to always grow! From my two main roles Chairman and Chief Executive I feel like I've been trying to work with a blindfold on; I know what I would like to do but I'm not sure when I will be able see clearly enough to put words in to action. However, I am moving ahead slowly but surely now!
I have been using the club office on my own but also working remotely from home. This last phrase has become widely used but we are in unprecedented times and this is something I am sure none of us expected to happen in our lifetime. To a major extent it has united our communities and there have been so many wonderful acts of kindness and incredible fundraising from very young children to the amazing Colonel Tom Moore. It would be remiss of me not to say thank you to every single person who has kept the country running every single day whatever has been thrown at them. But we must never forget the people who have lost their lives and the families who have been affected by this terrible virus.
I don't think it serves any purpose to keep commenting on a crisis which is affecting every single person in this country so I have been keeping abreast of Covid-19, the FA, Southern League and everything relevant to us. I have spoken to Rob Dray most days and kept in contact with my co-Directors by email and had many phone conversations with Alan Slade (Finance Director, Company Secretary & Acting Football Secretary). Alan has been incredible in dealing with all the things "thrown" at him. He had planned to start doing a bit less from the next AGM but is doing more to keep us on a firm foundation and allow us to grow in the future, whatever that future is. The one thing it has taught us is we can work remotely and making decisions by email gives you time to read, assess and discuss. I think the world will now realise that being in meetings and often traveling miles to attend perhaps is not right, efficient or a way to make sound decisions. We can have virtual meetings with all the technology but is it more effective than doing your homework and writing down your thoughts and beliefs? Personally, I think not; face to face meetings in a group can often force people to look at and vote for what someone else thinks rather than their own thoughts.
Ever since I became Chairman (July will be the 10th anniversary!) I have always said to my co-Directors they all must do their "homework" as it's not safe to go along with just my views and my "homework". Historically, meetings have to be stated as to how often they occur which is very staid and old fashioned in my humble opinion as sometimes we will meet more often as there is a lot to discuss and decisions to be made. I believe in tradition, but it has to be continually modernised to be aligned with the modern and very different world we live in. This world will never be the same again so from our viewpoint (Non-League football) it is the time for a huge shake up with less teams and smaller leagues with Saturdays as the most important day for matches at our level. Midweek matches will still be needed but they have to be more local and/or reserved for cup games mainly.
Where does that leave Taunton Town Football Club? Since the 13th March it has been an evolving situation but as we have always done, the Directors and key personnel have continually discussed the best way forward.
We furloughed all the players and management team apart from Head of Football Rob Dray as Rob has rebuilt the squad for next season. While it is unlikely that we will have a normal pre-season and start the season on time, Rob still has to develop the squad for next season, so we are prepared when it is safe. The squad is now assembled but of course in Non-League football rarely does it stay the same all season but perhaps this season it will stay together. Rob also has to be congratulated on the squad he has assembled as there is a great balance and also the average age has come down but still with a lot of experience at this level. I would also like to go on record to thank the four players who have moved on. In total they gave 13 great years to the club and were part of and helped develop what we now have which is better than when they joined. Matt Wright, Shane White, Ryan Brett, and Rocky Neal will go down as a huge part of our history and I thank them for all they did for us. They will always be welcome here and I hope fans recognise what they did for the club. In Non-League, opportunities and circumstances dictate decisions and while sad to see them leave it is what happens every year and something I expect to happen as squads always evolve. Who knows what would have happened if we had finished the season, but we didn't, so we now move on to the next chapter.
We have received a Grant from our local Council and will not pay business rates for the next fiscal year. They have been fantastic in their efficiency to administer the funding delivered from Central Government and I thank them for their help.
We are also exploring every avenue of funding to keep the club moving forward and to allow us to plan for football resuming when it is safe to do so. We have to have fans and be able to open all of our facilities At present I think that is a long way off for a club at our level because we have to have fans coming through the turnstiles to help fund the club and it may all hinge on a vaccine being developed and available for the population who are most vulnerable. The health of the whole nation is the most important thing in a Pandemic, and we all have to be patient to make sure it is safe for our whole community to be able to attend a match. Technology has allowed people to communicate all over the world and this is why it is a fantastic tool for us all when used for positive uses. The problem is we all take it for granted and the whole world needs to use the three new R's, reset, respect, and re-evaluate. While the country is moving forward, we all must stay vigilant and be sensible to avoid a second wave. A problem we seem to have in this country is blaming someone else and now more than ever every single person must take individual responsibility, look out for other people, and unite the community, not divide it.
In terms of football this is the one opportunity to press a massive reset button as it has grown out of proportion and was totally unsustainable. We all must try to make it better moving forward to protect as many clubs as possible, but every club has to go back to basics and make sure they can afford to run their business. As far as I am concerned if you pay anyone (football staff in our case and a few others) you are a business first and a football club second. Every business makes a profit or a loss and for too long clubs have relied on an individual or individuals to pay their bills including players. This is economic madness as we get a lot of "rainy" days and many obstacles to overcome and one day if you are not sustainable over a two year cycle you are putting the football club at risk. In sport on and off the pitch, egos are what can be the problem; every year in Non-League we hear of huge amounts of money propping up clubs and playing budgets that are not sustainable and never will be. I do not understand clubs that don't strive and put everything in to owning their own ground as a freehold –  these are often successful business people who come in to football probably having never played any sport and change their sound business sense where they have made their money and think football is different. It is not and never will be so you have to try to have your playing budget as a percentage of your turnover or the "business" will not "stack up".
The best legacy left by all the previous Directors and especially our President Tom Harris was to buy the 4.6 acre site we own outright and have the freehold in the club's hands as well as no legal charges on the property. It has been a long hard road to achieve this but now we will have to take advantage of every funding avenue that's available to keep the club safe and able to plan for the future which will never be the same again.
However, in the last ten years we have dealt with a devastating fire, floods, huge debts and now Covid-19 so we are used to trauma and while this is a Pandemic which is affecting every single person in the world we will come through it and I am convinced Taunton Town will be stronger by the time we get to 2021/22 and future seasons.
Next season 2020/21 is totally unclear so it's very hard to plan too far ahead but we have to try to get our plans at least ready to move so we can press the button although like all leagues we will need decent notice to put our plans in to working practice. Whatever we have to deal with we will, but Non-League football if it is going to survive will need a lot more support from higher up as I think the goodwill of people has been taken for granted. We are the envy of the world to have the pyramid we do, but it isn't sustainable and never will be. If the Bundesliga and Ligue (French League) has two full time leagues and then part time beneath it how can it be right for us not to have the same maximum 18 teams per league which I believe is the aim of the richest league in the world, the English Premier League. The population of England is around 56 million, Germany 86 million and France 66 million. I think for too long we have been killing our Non-League pyramid as I believe we have 10 levels in the Non-League System, then County Divisions beneath that. No wonder crowds in Non-League are much lower than they might be but more importantly much lower than where they need to be! A community football club does so much for their town or city, more so than any other sport because it is quite simply the biggest and richest sport in the world but rich at the top only!
If there are less teams it should be easier to attract more fans and how some small towns can sustain two Non-League teams in 2020 is beyond me, pride needs to be swallowed and there will have to be mergers to survive. I believe minimum size crowds will be a good guide to whether you can survive if you pay players which in general most teams from Step 6 upwards do. We averaged 602 last season and I believe 4-600 is the minimum any club will need at Step 3 to be more sustainable. If you cannot get 100 paying spectators at Step 6 (if you pay players) I cannot see a club can survive and grow which is surely the point of being in a pyramid?
The excellent Ollie Bayliss provides lots of stats on Twitter, some of them are below which I think shows how unsustainable Non-League football is.
Average crowds last season as follows, just at Step 3, Step 4, and the National League.
Southern Premier South: 312
Southern Premier Central: 356
Northern Premier league: 556
Isthmian Premier: 340
Average crowds last season as follows just at Step 4.
Southern Division One South: 179
Southern Division One Central: 170
Isthmian South Central: 136
Isthmian South North: 190
Isthmian South East: 239
Northern Premier North West: 286
Northern Premier South East: 238
National League Average Attendance: National (Step 1) 2168
National League North: 1068
National League South: 846
This shows in many ways how well we are doing with an average crowd of 602 last season but I firmly believe with an expanding town and what has happened since March I hope more people will support us to get to the magic 1000 on a regular basis."