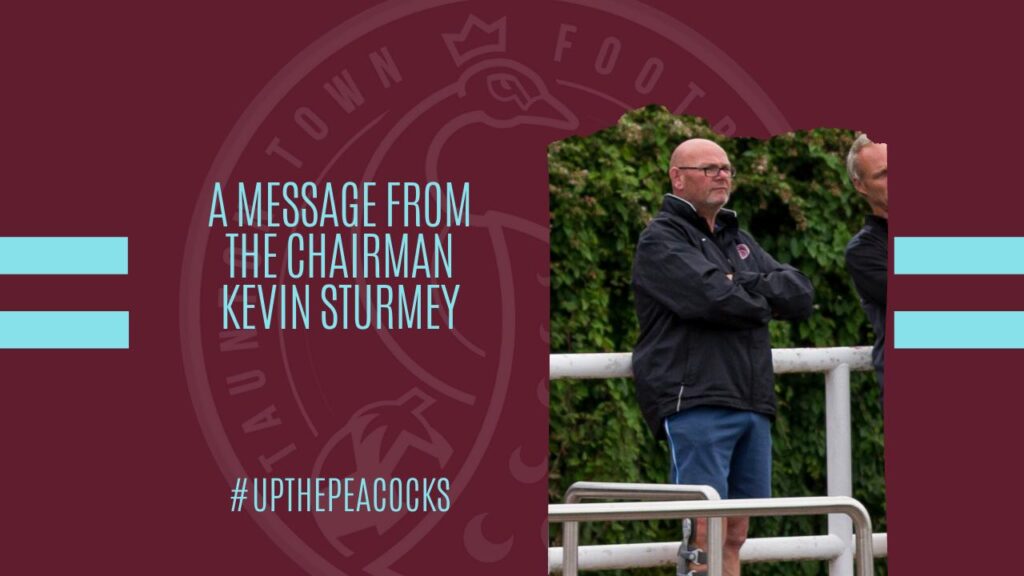 Club Chairman Kevin Sturmey will be speaking to tauntontown.com over the coming weeks to provide updates covering a wide range of topics related to Taunton Town FC and beyond. In his latest message Kevin discusses thoughts on starting the new season and how you can help by reserving a Season Ticket:
"It was great to finally welcome the whole squad to the Cygnet Health Care Stadium last Wednesday night for a get together and some training in small groups as well as plenty of running!! We used our pitch for the first time this season as Simon and I are well on schedule with the works necessary for the new season. The fitness levels were incredible, and I was absolutely shattered at the end of the session and I was just pulling hoses around watering the middle of the pitch!
Every summer, squads change and we have been very lucky to have had a pretty stable core for a number of years but now we have had to recruit heavily and Rob has put together a great group with a lot of talent on show. Of course, the key thing will be to get the squad to gel and hope we are given enough notice to have decent pre-season friendlies home and away.
While things are easing with Covid-19, none of us can take anything for granted and we can only play competitive matches when it is safe and secure to do so in front of fans. That means every fan needs to be able to visit any ground and feel safe so I still think we have to aim later rather than earlier to give clubs the chance to make each stadium safe for the whole population and any age group. We have to have fans and we want more new fans to support us to the next level so we will do everything we can to infiltrate further in to the community to spread our message that this is a family friendly club where everyone is welcome.
At present we think pre-season training (properly and not in small groups) will start in August, friendlies in September and my own personal opinion is October 3rd for the start date for competitive matches BUT this is dependent on fans being allowed to attend friendlies as it is not viable for us to play behind closed doors. It is also not viable to test everyone when we receive no television funding.
Although it is not definitely decided, we understand the suggestion is that the League Cup and the Somerset Premier Cup should not be played next season which is totally sensible. However, in my opinion, we must play in the FA Cup as that can be a massive boost to Non-League clubs financially as well as attracting new fans. The kudos of reaching the 1st round proper can set a club up as it did for us in 2016 and was part of the upward curve in our club's growth.
On to Season Tickets and how the world and football at Non-League level will have to change after the pandemic. While we hope a full League season will be possible there is no guarantee at present so for fans who wish to purchase a Season Ticket, they can make a reservation as detailed below.   This will help our cashflow but will also mean refunds will not be needed (as long as we play!) and the balance of the season ticket can be paid when we know the start date for home friendlies. As the world changes we will become more cashless so payments will have to be made by BACS, cheque or by card over the phone direct to Alan Slade our Finance Director. Alan is based at home in Devon but can be contacted by email – finance@tauntontown.com or by telephone – 07900 897249 to organise your reservation.
Reservation Fees are as follows and if we play a full season the season ticket price will be the same as last season (that price is in brackets).
Adult (18 to 64 years) £80 (£162)
Concessions (State pensioners and students with ID) £60 (£126)
Junior (14 to 17 years) £40 (£81)
Season Ticket holders from last season who renew for the new season will be offered complimentary tickets to compensate for the six games they lost last season as well as free entry to home friendlies assuming of course these take place! These tickets will be optional, but we feel it is the right thing to do. We hope they will be used to encourage new fans and not fans who normally pay to get in.   Every penny and every pound are going to count this season if we want to be competing at the top end of the League.
There is still so much up in the air at the moment, but we hope to have a better idea in the next week how we may be able to play safely in front of crowds next season. On match-days the easiest bit is from kick-off but changing rooms and showers at our level were not built with social distancing in mind plus we will need an army of volunteers to supervise fans in a totally different way. There is so much to consider but, in the end, we must have a safe environment for everyone as testing is not viable twice a week for any part-time club.
I would urge everyone who wants to support the club to buy a season ticket as there will be a dedicated turnstile next season for season ticket holders, Life Members and pre-paid tickets including match sponsors. There has never been a more important time to support your local club than now. We are given absolutely nothing and have to raise every penny we spend yet other sports which are very small compared to football get helped along every season. Hopefully we will know soon if our capacity has to be reduced in the short term but I can't see social distancing working behind a goal when we score a winner, especially in the last minute as has happened many times in the past! I believe we are still at level 3 on the Covid-19 scale of recovery and I cannot see how we will manage to play in front of fans until we are down to level 1. The number of fatalities is falling but we must not forget it is still a very sad time for many families who have lost loved ones to this horrible virus.
In my humble opinion while our football system is the envy of the world it is not sustainable as the bulk of the money in the sport resides in the top two divisions. The gap in finances between the Premier League and League One is massive, let alone the gap down to Non-League. With no plans to close that gap the wealth will remain at the top and the chasm will get wider. There are simply too many clubs and that puts the smaller clubs at risk. If the Champions League is a forerunner to a European League, it could help finances further down the pyramid unless of course money is generally lost to the English game.
I am confident that whatever is thrown at us we will deal with it as we have overcome so many problems in the last ten years. We have always got over each hurdle, but Covid-19 is an unknown threat and like the flu will never go away so we all have to understand the world will never be the same. When something like this happens, we must re-write the "how to" manual, more so now than ever before.
Please support us in any way you can. Reserve a season ticket and/or join the Somerset West and Taunton Lottery as both will contribute directly to Taunton Town FC.
Your local club needs you!
Up the Peacocks!