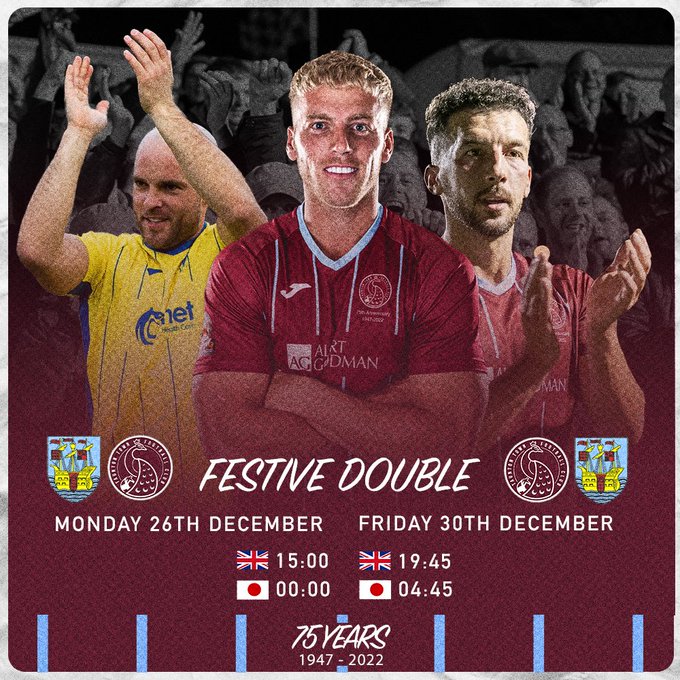 The two National League South fixtures against Weymouth over the festive period have been switched. Boxing Day now sees the Peacocks travel to the Bob Lucas Stadium, ko 3.00pm, instead of hosting the Terras while the return fixture originally scheduled for New Year's Day in Dorset will now be staged at the Cygnet Health Care Stadium on Friday 30th December, ko 7.45pm
Chairman Kevin Sturmey elaborated on the decision to reverse the fixtures, saying:" Firstly, this is not a decision we took lightly and of course we wanted it out about two weeks earlier, but we had to follow certain protocols and we looked at everything three dimensionally. January is going to be an incredibly hard month for the players, and we felt getting them as much rest after the two Christmas games is vital. We have a small squad and trying to give players the chance to rest niggles and minimalise injuries could help us in what will be a hectic January which includes a Tuesday night trip to Dover. There is no hiding place in the National League, and we are still adapting in our first season at this level.
Commercially we believe the calendar has thrown up a great chance to test this Friday night as we have wanted to trial a Friday and this is probably the last opportunity this season due to travel distances. We believe there may be no other matches that night so it's a great opportunity to "sell" our Club to the occasional fan who may become a regular. We also need to remember Tiverton was our local derby with a rivalry going back decades whereas Weymouth is a newish League match! It's also a three day holiday weekend so a great time for all of us to plug ourselves in to the battery charger as the National League is fantastic but it is unrelenting; I have seen more of Kent in a few months than I have in 50 years!
Staffing can be a problem around Christmas and this is always an issue when we are 98% run by Volunteers and the other staff are casual. We do not have hordes of people wanting to "work" on Bank Holidays or over the Christmas period.
While none of us can predict the weather, recent history has resulted in very wet weather over Christmas and on one occasion I was pumping water off the pitch until 8pm on New Year's Eve attempting to get a match on. Now we have "monsoons" due to climate change the amount of rain that can fall in a short space of time does have a bearing on matches and Boxing Day would mean the pitch is prepared by Christmas Eve and then if there is any doubt with weather we would have a few hours on the morning of the game to try to get it on whereas a Friday we have all week and all day on Friday. A prime example was Dulwich where we had to give a lunchtime call based on that inspection but if they weren't traveling so far i am sure by 6pm the pitch would have passed an inspection, but we couldn't take that risk. On the 30th we would try to leave it as late as possible as for most people in football it will not be a workday. Weymouth have fantastic drainage (it's a properly laid pitch) whereas we have a pitch which is great on the surface but underneath is full of tree roots and further down a Landfill Site so we have low spots, and this can present the problems we encounter with standing water.
Both us and Weymouth are desperate to play both games and while of course many people will look at this and question our sanity I personally feel this will give us the best chance to play both games and open us up to new fans who we need to come back regularly, not just for the "big cup games" and Bank Holidays. If we get it wrong, we learn and go again, if it goes well then great, we will also look at other ways to keep pushing boundaries and not just accept the status quo."