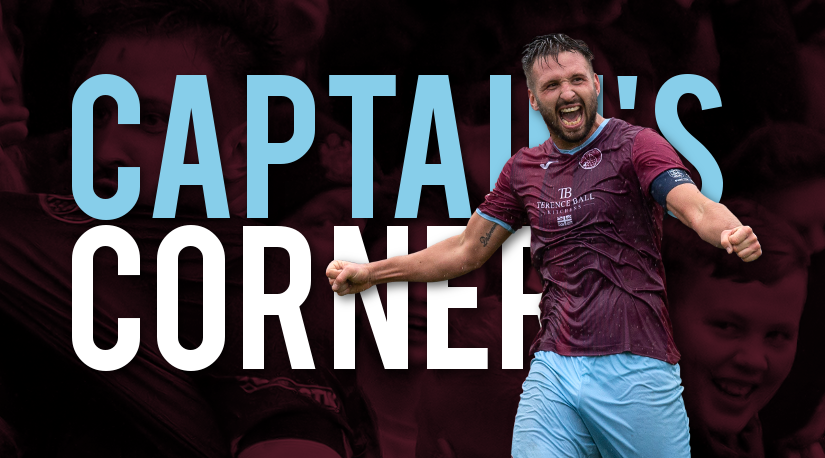 INTERVIEW | MATT WRIGHT
Q1: Following last season's title win and promotion to the Southern Premier Division. What objectives did you set yourselves as a squad?
Our objectives as a group of players were to take each game as it comes. As it is a relatively new league since the restructure, there are a lot of unknown teams and new grounds to visit. We know on our day, we can take on anybody in this league and even the league above which we've proven in the last couple of years. I don't think you can say to this bunch of players that you'd be happy with a mid-table finish. It was always in our heads to be challenging because we believe we are good enough. We're winners and we hate dropping points. I'm not particularly surprised we're in the position that we are in and long may it continue.
Q2: As Captain, you could potentially be leading this club to back to back promotions. With 13 games left to go of the league campaign, how does the squad keep focused with the added pressure of silverware in sight?
Back to back promotions? I can't even think about that right now. It's crazy to think how far we've come in my 3 seasons here now. The support from the fans has increased in numbers, the standard of players that we have attracted has gone up considerably and the management never let us get too far ahead of ourselves, which is good. We need to stay grounded and I think we all keep each other focussed. You've seen lately the management aren't afraid to make changes to the team which ultimately keeps everyone on their toes.  We have a great blend of personalities in the changing room which keeps things interesting. So yes, the lads are focussed more than ever. We are on the brink of achieving something special. However, as I said, there's a long way to go, it's going to be a rollercoaster so strap yourself in and enjoy the ride.
Q3: Do you think the key to the club's success over the past 3 seasons has been due to the continuity of the playing squad?
Absolutely, continuity in the lads playing on the pitch is vital. Everyone knows their roles and what it takes to win games. At times it isn't pretty, and I've realised that lately but we're in a results business and at the end of the day, 3 points is what you play for. Continuity off the pitch is also key. We had a change of management, but nothing changed. The philosophy didn't change. Our philosophy is to win at all costs. Find a way to get the 3 points and that's a credit to everyone on and off the pitch.
Q4: What do you feel is the most recognisable change at the club during your time at the Viridor Stadium?
The most recognisable change I think is the expectation week in and week out. I think the fans have been a little bit spoilt in terms of last season success, seeing as they only saw us lose 1 league game all season. Obviously, this year was always going to be a lot tougher with the standard of teams in the league being a lot higher but that expectation that we should win week in week out has rubbed off on the lads and we know that we have to go out there and win, as that's what is expected of us now with the quality we have in the team. Winning the league by 19 points last term has got a lot more fans through the gates which is another big change. The support is unreal home and away and all the lads appreciate what the fans bring to us on a matchday by creating a superb atmosphere.
Q5: You're very well connected within football. What do you think fellow players who aren't at the club see when they look at what's going on here?
Well, the proof is in the pudding. When I signed here, I got treated unbelievably. When I left Truro I fell out of love with the game. I always kept in contact with my mates at there and telling them how good it is at the club which quickly prompted Shane to join me. The next thing you know we're both pestering Benno, Bretty, Rocky, Ed and Sully and the rest is history. Pierce recommending the club to Lewis who has been an outstanding signing. The key to winning matches is enjoyment. If you have a happy team then they will go out and win games and fight for each other for the full 90 minutes. From the outside looking in, it's obvious that this club are in a good place and we are well looked after. We are a club that players want to come and play for now, whereas before it was a bit of an unknown territory. That can only be good for a club attracting a good standard of player.
Q6: You mentioned the level of expectation has grown. Where do you see the club in 3 years' time?
Who knows? A week in football is a long time as we all know. I'd like to think the club will be a regular member in the Conference South challenging for promotion and I see no reason why that can't happen. The club is in such a strong position on and off the pitch so that has got to be the aim. It always helps when you have a Chairman that loves the club and is surrounded by people with the same mindset.  He doesn't like to sit still and is always looking at ways to improve.
Q7: Finally question for you Matt. I know you're only looking at each game at a time and not at promotion. However, if the club were to earn promotion this year, where would that rank in your career achievements?
It would hands down be my greatest achievement. Playing and enjoying my football with 16 of my mates whilst getting back to back promotions, it's something that would be talked about for a long time. A few of the lads, me included, won't forget last year as we've had tattoos of a trophy when we went on tour to Magaluf. As I said at the start, one game at a time, keep ticking those wins off and it will become a reality.