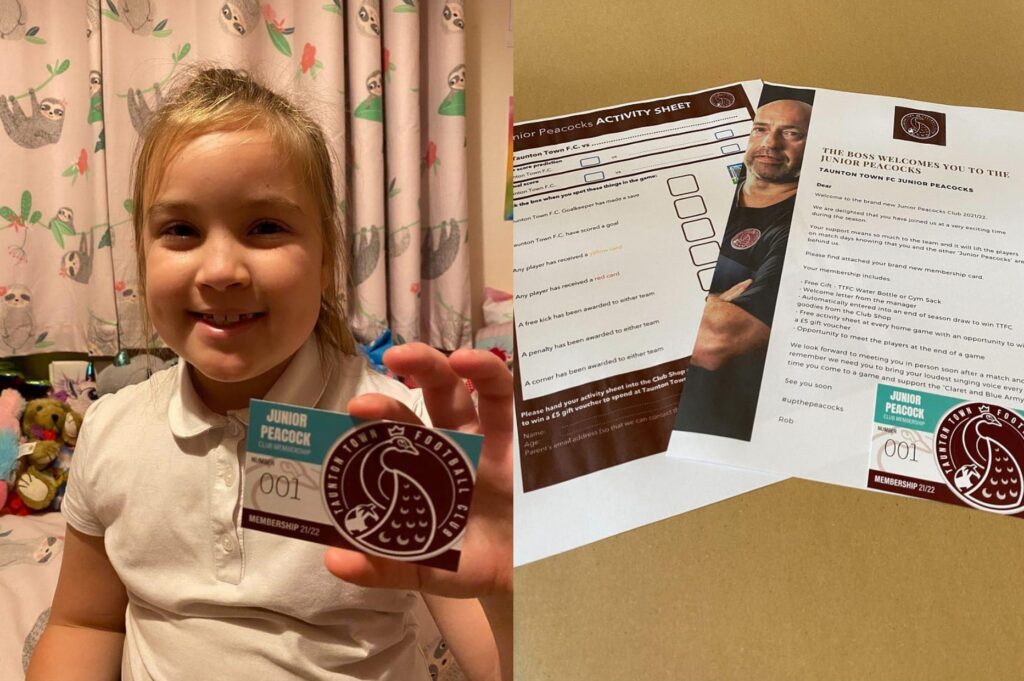 The club are delighted to announce the launch of their Junior Peacocks Membership. The new scheme is aimed at encouraging younger supporters of the Peacocks to become members of their very own club which will include several benefits!
Club Shop Manager Lee Derrick told tauntontown.com: "We have been looking at initiatives of how we could reward our younger fan base and from here the idea of a Junior Peacock membership was developed. I am absolutely delighted that we can now launch the Junior Peacock membership and continue to support and encourage our younger fans that come to watch Taunton Town FC."
The new scheme is up and running from this Saturday's home game with Gosport Borough when membership packs will be available at the Club Shop. As it is being launched during the season, membership is being offered at a fantastic price of £5 which will include:
Free Gift – TTFC water bottle or gym sack
Welcome letter from the manager
Automatically entered into end of season draw to win TTFC goodies from the club shop
Free activity sheet at every home game with opportunity to win a £5 gift voucher
Opportunity to meet the players at the end of a game
Chairman Kevin Sturmey commented:" Having sat down with Lee, we discussed how to involve children more on a matchday and came up with the Junior Peacock Club. With children under 14 having free entry to games, we wanted them to feel part of the club similar to a Season Ticket Holders membership. To grow the Taunton Town Brand, we need to make sure we engage with the wider community and starting with our younger fans is a must. We already have a good diverse fanbase, but we must never rest on our laurels and continue to push boundaries at every opportunity and children are the future of this club."
To become a Junior Peacock please pop into the club shop on match days or email the club shop – clubshop@tauntontown.com. We look forward to seeing you and are really appreciative of your continued support.
#upthepeacocks