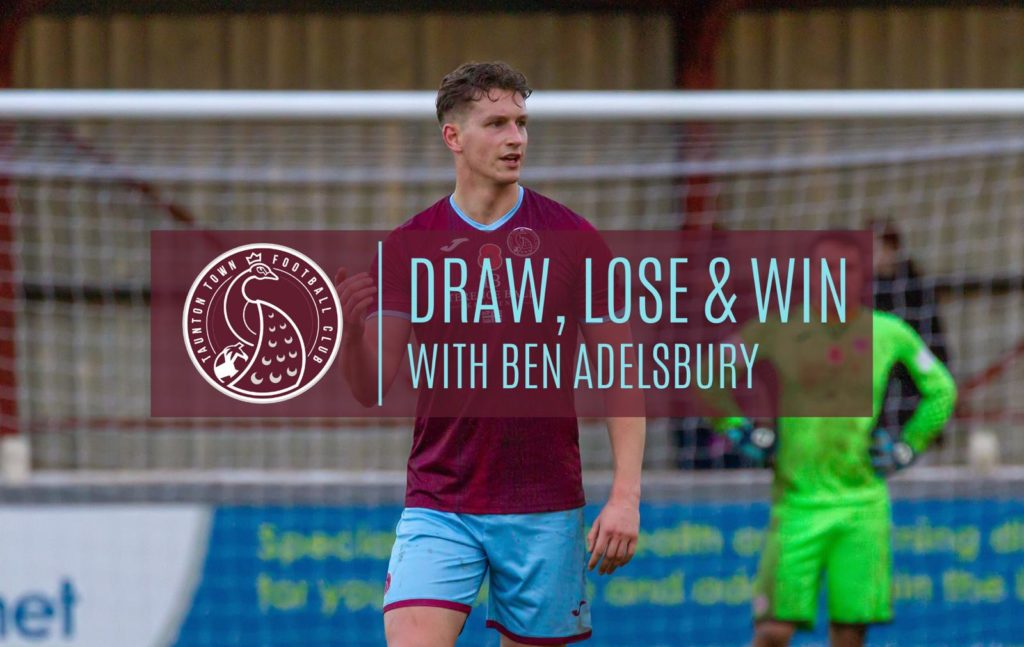 No game for the Peacocks yesterday meant a rare weekend off for the squad. It is often overlooked how non-league players fit in their footballing duties alongside work and family commitments, especially when the team are faced with two games a week.
Such an occurrence happened for Town two weeks ago with a quick double-header with Aveley in the Buildbase FA Trophy followed by another League game on the Saturday. Tauntontown.com caught up with Ben Adelsbury and Shane White to get their outlook on a busy week which gives a flavour of the application needed to play at this level. Here is Ben's story, with Shane's to follow soon:
8 days in the life of a Non-League football player:
Sat 09/11 – Aveley at home in the FA Trophy. On another day we beat them…. but in this game, we left it late with Bretty's left peg earning us a draw. It then sinks in that the replay is in 48 hours' time with a 500 mile round trip. Oh dear.
Sun 10/11 – Because of yesterday's draw I go into work (Nuffield Health gym) to cancel Monday afternoon's appointments plus a few client PT sessions I had booked in. Two and a half hours later containing 15 phone calls plus emails, my Monday afternoon is clear and I can then enjoy the rest of my Sunday family day off. I remember saying to my fiancé Nia on Sunday evening: 'Good night and I'll see you and Theo (my son) on Wednesday!'
Monday 11/11 – 5am alarm to open the gym and start work at 5:45am. The morning consisted of cancelling my PT client sessions that I had booked in for a busy Tuesday. I called in a favour with my manager at work and I left at 11.30am to meet the lads and start the journey from Plymouth to Aveley.
Seven hours of travelling which then resulted in a very frustrating loss. A few words from the management after the game in the changing rooms, then the thought of 'what time am I actually going to get home' ran through everybody's mind on the coach on the way home.
After a quick service station stop- off for food and snacks, we were back to the car meeting point at Bridgwater for 3.30 and I was back home in Plymouth at 5.15am. Physically and mentally shattered.
My little boy awoke at 6am and insisted that daddy had to dress him before he left for nursery, I was in complete zombie mode. Back to bed when Theo and Nia left for nursery for then a builder to bang on my front door to let me know he's going to be working in my garden this morning. 'Crack on mate' was my reply whilst trying to open my eyes.
It's fair to say the next few days were tough; it took me until Friday to feel fully recovered with catching up on sleep and having enough energy to feel normal.
Sat 16/11 – Blackfield & Langley at home in the League. The lads dug in for each other in this game. When Short's (Jamie Short) slotted the 4th goal, we all sighed with massive relief. A much needed three points for us to focus back on the league.
Up the Peacocks 🦚 💜