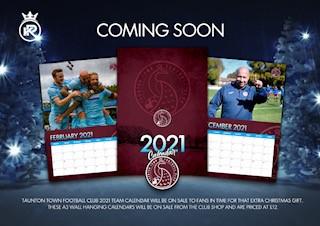 The 2021 Taunton Town FC Calendar is available to pre-order now! It is available from mid-December and would make an ideal Christmas gift for any Peacocks' fan!
To guarantee yours please email clubshop@tauntontown.com and we will process your order.
A big thank you to Kingpin Sports Design for all their hard work putting the calendar together.
We are also delighted to introduce our new Taunton Town FC vouchers. They are valued at £5, £10 or £20 and are available to purchase from the Club SHOP on match days or by emailing clubshop@tauntontown.com.
The vouchers are issued electronically via email or text and may be redeemed against purchases in the Club SHOP on production of the voucher on an electronic device or using a printed copy.