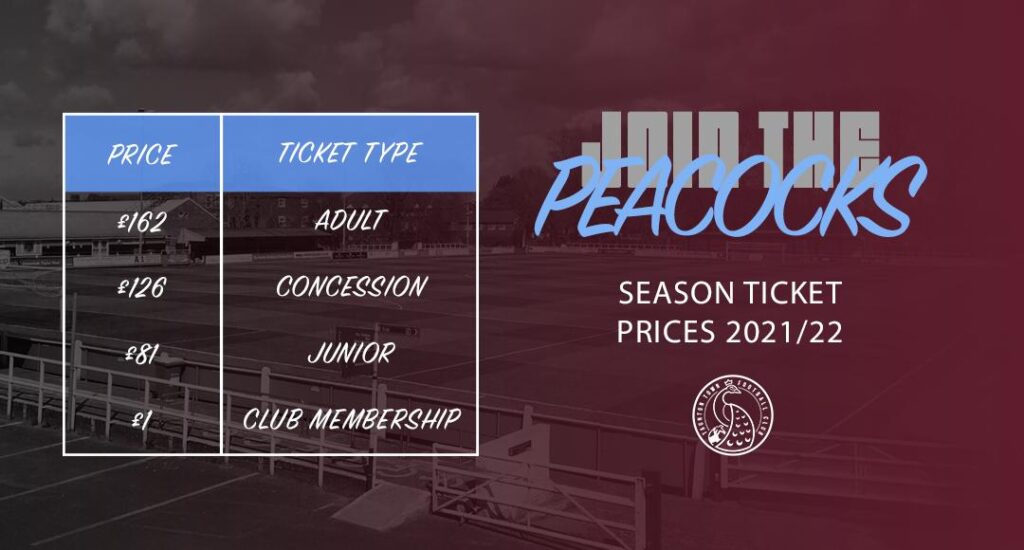 We are pleased to announce that Taunton Town Season Tickets for NEW applicants will be on sale soon.
With the recent disarray in football at the highest level and with the Peacocks raring to go after two uncompleted seasons, there is no better time to get behind your local Football Club by investing in a Taunton Town Football Club Season Ticket for the forthcoming 2021/22 Southern League Premier South season.
Enquiries and applications for 'new' Taunton Town FC 2021/22 Season Tickets may be made in person at the Club SHOP during advertised opening times or by emailing clubshop@tauntontown.com. The Club SHOP will be open between 1pm and 3pm on the following dates:
Saturday 24th April, Saturday 1st May, and Saturday 15th May.
Further dates during the close season will be confirmed in due course.
IMPORTANT NOTE: 
Finance Director Alan Slade has issued the following update regarding existing season ticket holders from 2020/21 who SHOULD NOT apply for a new 2021/22 Season Ticket:
"'In the 2020/21 season the Club received a record number of applications for Season Tickets. With the uncertainty due to the Pandemic, we asked for a reservation fee rather than the full ticket price. I am pleased to announce that the Directors have decided that the reservation fees will be used as an initial down-payment on your Season Ticket for the 21/22 season.
Prices for Season Tickets have been pegged at the level of the 2019/20 season and are:
Adult (18 to 65 years)                                                                                    £162
Concession (State Pensioners and Students with ID)                            £126
Juniors (14 to 17 years)                                                                                 £81
Well before the start of next season I will be contacting every 20/21 Season Ticket Holder to inform them of the balance owed to complete payment of their new Season Ticket. 21/22 Tickets will have the same number as the 20/21 Season Tickets.
If you have any questions about Season Tickets, please contact me by email using  finance@tauntontown.com or call me on 07900 897249.
Up the Peacocks!!"