Recap
Report
The Peacocks gained their first victory over a Tonbridge side at the 6th attempt with a convincing outcome at the Cygnet Health Care Stadium, a significant win for Town with their last three National League points having come at the beginning of September. A crucial second goal on the stroke of half time regained the lead for the hosts and after that they never looked back as they netted two more clinical finishes after the break to register their most handsome Step 2 win to date.
The home side showed two changes from the exasperating midweek outing to Oxford, with Nat Jarvis taking over from Nick McCootie up top and Lee Lucas returning in midfield in place of Joe Budd but no help was needed from a claret and blue shirt to provide the opening goal for the Peacocks inside the first two minutes, Zac Smith gliding a cross in from the left and Angels full back Craig Braham-Barrett neatly steering a header into his own net attempting to clear. It might have been worse not long after when debutant Tonbridge keeper Kevin Manuel punched an inswinging corner from Lloyd James onto the crossbar but gradually the initial Town flurry died down and Angels joined the party.
Opportunities at both ends were pretty scarce though although two consecutive corners for the visitors produced an opening on 21 minutes when Joe Tyrie met the flag kick from Jeremy Santos but directed his header comfortably over the target. Town meanwhile saw a James free kick from the left touchline nearly catch Manuel out as it curled narrowly over onto the roof of the net before Joe Guest set up Dave Sims-Burgess whose shot across Manuel would have gone in until the interception of TQ Addy to boot clear.
There was a bizarre element about the Angels' equaliser after 28 minutes. Manuel's kick upfield was partially cleared as far as Dylan Gavin who slipped over as he tried a speculative shot from 25 yards, normally a routine save for Town keeper Jack Bycroft but not on this occasion as the shot wrong-footed him as he also slipped, the ball rolling past his grasp. Yet another slip saw Jarvis lose his footing as he found space at the other end, only to scuff his effort wide, but it was Tonbridge who were beginning to gain the upper hand in the latter stages of the first half. Bycroft palmed away a dangerous cross from Ruben Soares-Junior before a cross from Addy caused panic stations, with attempts from Soares-Junior, Gavin and Tyrie being thwarted before the whistle ended the frenzy.
With the half time whistle imminent, the Peacocks retook the lead following a decent end to the half. Some neat interplay on the left saw Smith's low cross cleared by Tyrie for a corner. Manuel punched away James' delivery for another corner which Foulston swung in from the opposite side and Jarvis' header found the net via a slight deflection, the striker's first goal for the Peacocks and no more than he deserved for his hard work in recent games.
Angels recovered from this blow to make the better start when play resumed, with Bycroft fortunate when he failed to hold a shot from Soares-Junior, the ball falling to Nick Grimes to clear. Dylan Morgan replaced Sims-Burgess just before the hour as clear chances continued to remain elusive. A Lucas half-volley from just outside the box was fielded by Manuel while Tonbridge, despite displaying some tidy approach play, never really tested Bycroft who safely held a long distance strike from Santos before watching Scott Wagstaff send another shot wide.
A third goal would surely seal the points and it duly arrived on 75 minutes. Morgan, his dynamism proving a positive weapon for his side, linked up on the right with Ollie Chamberlain whose cross reached Smith unmarked 12 yards out, the Peacocks' man controlling before drilling his finish past the despairing dive of Manuel. Angels now needed divine intervention but as they continued foraging without success, they were finally put to bed with four minutes left on the clock. The ball fell to James just outside the area and his pass through set up Chamberlain for a bullet strike into the roof of the net. Pick that one out!
Town efficiently saw out the final minutes with no alarms, providing the perfect boost ahead of their next FA Cup assignment in a week's time. However more importantly they had comfortably defeated a side sitting in 8th spot which will go a long way to cementing their belief at this level.
Line-Ups
Taunton: Jack Bycroft, Jay Foulston, Nick Grimes (captain), Dan Ball, Ollie Chamberlain, Lloyd James, Nat Jarvis (Joe Budd 81), Joe Guest, Zac Smith,  Dave Sims-Burgess (Dylan Morgan 59), Lee Lucas. Unused subs: Nick McCootie,  Ross Staley, Lee Lucas
Tonbridge: Kevin Manuel, Craig Braham-Barrett, Sonny Miles (captain), Joe Turner, Tariq Hinds, Ruben Soares-Junior (Nathan Wood 63) , Joe Tyrie, Tetteh-Quaye Addy (Jamie Fielding 82), Scott Wagstaff, Dylan Gavin (Louis Collins 70), Jeremy Santos-Hurado. Unused subs: Ben Swift, Tom Parkinson
Officials
Referee: Daniel Lamport (Swindon)
Referee's Assistant 1: Sean Rothwell (Plymouth)
Referee's Assistant 2: Graham Pearce (Melksham)
Attendance
872
Reaction
"It was quite functional, we scored some really good goals, certain aspects which I wasn't pleased, certainly in the first half….." watch Rob Dray's Match Reaction on Peacocks TV HERE
Highlights
Match highlights can be seen on Peacocks TV HERE
Photos
Match photos from Club Photographers Ashley Harris can be viewed HERE and Debbie Gould HERE
Mind In Somerset MOM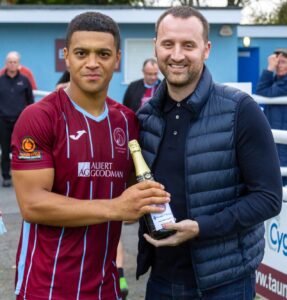 Nat Jarvis receives the Taunton Town Man Of The Match award from former Peacocks captain Brett Trowbridge representing Match Sponsor Redwood Joinery