Recap
Report
It was another Tuesday night trip to Slough for the Peacocks after the original Saturday trip was cancelled due to the playing surface at Arbour Park being deemed unsafe to play on. Taunton, playing in their claret and blue home strip, were the first to show which saw them take the lead, Jay Foulston's cross finding Joe Guest who turned just inside the box and calmly slotted his shot into the bottom left corner past Rhys Forster in the Slough Town goal after four minutes. The next notable chance would come from the home side's number 16, Sam Shaw, but Taunton's loanee goalkeeper, Jack Bycroft made the first of several huge saves to deny Slough the chance to get level while Alfonso Tenconi spurned a chance just before the break. The first half remained fairly even with both sides feeling slightly hard done by with a few decisions from the officials, but the Peacocks went into the break with the advantage following Guest's early goal.
The second half began and a Slough side, clearly frustrated at their lack of an equaliser, came out with some intent, repeatedly trying their luck with shots from outside the box. Not too many would test the Peacocks' keeper, but those that did were met with some strong saves that would end up earning Bycroft Taunton's Man of The Match award.
Around the 90 minute mark, the fourth official consulted with the referee to give his version of events after a Nat Jarvis tackle. Following this conversation Jarvis was shown a red card, Taunton's first of the season, while Connor Sidley-Adams was also dismissed from Town's bench after protesting about the decision. A spirited Slough tried to break though the Taunton defence during six plus minutes of additional time and though they had chance after chance to do so, the Peacocks held strong to the final whistle to progress through to the final 32 of The Isuzu FA Trophy to face Torquay United away in the next round.
Line-Ups
Taunton: Jack Bycroft, Jay Foulston, Nick Grimes (captain), Dan Ball, Jake Wannell, Ollie Chamberlain, Lloyd James, Nat Jarvis, Joe Guest, Zac Smith (Dylan Morgan 83), Dave Sims-Burgess (Ross Stearn 52). Unused subs: Joe Budd, Lloyd Irish
Slough: Rhys Forster, Josh Jackman (captain), Shane Bush, Luca Woodhouse, Ben Long (Harry Williams 87), Matt Lench, Elliot Benyon, Alfonso Tenconi, Youssef Chentouf (Arnold Matshazi 62), Sam Shaw (Jefferson Louis 62), Aaron Kuhl. Unused sub: Scott Davies
Officials
Referee: Jack Packman (Margate)
Referee's Assistant 1: Daniel D'Urso (Horsham)
Referee's Assistant 2: Nick Blogg (Horsham)
Attendance
299
Reaction
" A magnificent, resilient win I'd say, after we had an awful lot of pressure in the second half…….." watch Rob Dray's Match Reaction on Peacocks TV HERE
Highlights
Match highlights courtesy of Slough Town FC can be seen HERE
Photos
Match photos from Club Photographer Debbie Gould can be viewed HERE
Mind In Somerset MOM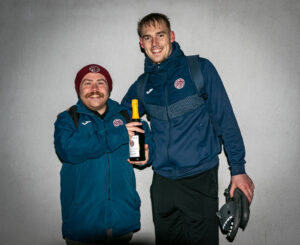 Jack Bycroft receives the Taunton Town Man Of The Match award from Media Team member Jake Crump