Recap
Report
The Peacocks concluded their first season in the National League with another impressive victory on a gloriously sunny day in Essex. The weather suited the mood of the 1300 plus in attendance with the hosts already assured of a play-off place whilst the Town supporters could relax in the knowledge they would resume action in the same division for 2023/24. On the pitch though there was a greater emphasis, with the Clarets needing a victory to finish in as high a position as possible to confirm home advantage in the one-off dramas to come whilst the Peacocks were looking to end the campaign on a high against the side with the meanest defence in the division alongside champions Ebbsfleet.
Nick McCootie returned from suspension to partner Dave Sims-Burgess up top and Ollie Chamberlain came in, with Ross Stearn and Dylan Morgan dropping to the bench while Lloyd Irish also donned the gloves in place of Jack Bycroft as Town sought to bounce back from the defeat to Weymouth. After a brief opening flurry from City, the visitors responded by winning two corners before making an early breakthrough after ten minutes. McCootie found Lee Lucas who in turn fed Zac Smith on the left side of the area and his chipped delivery to the far post was perfect for Sims-Burgess to nod home. Chamberlain then swivelled onto Joe Guest's pass to see his cross-shot drop just wide of the far post before Chelmsford began to increasingly press forward as they looked to restore parity.
A Callum Jones volley deflected for a corner which was punched clear by Irish for another and when this second one was recycled in by Tyreke Johnson it fell just too far in front of Michael Folivi for him to capitalise. A low diagonal ball from Ben Brookes then reached Folivi who turned to fire into the side netting just before the half hour but despite their possession in the final third Town were looking comfortable in dealing with it and might have compounded City's deficit at the opposite end with several breaks petering out. McCootie found space inside the box but didn't pull the trigger, Lucas taking over to find Lloyd James who skewed an effort wide while McCootie blazed another shot over before City broke from a Town corner, leading to a late spell of pressure at the end of the first half which came close to producing an equaliser, Liam Trotter's cross from the left being headed back across by Folivi to Jones who was unable to convert from close range as Irish held on.
The long-serving Peacocks' keeper misjudged a clearance, causing a brief alarm at the start of the second half, but managed to recover before Town added a second goal four minutes in. Chamberlain was bundled over 25 yards out and Lucas took aim and planted an absolute beauty of a free kick into the top corner 😍 beyond the reach of Chelsea loanee keeper Eddie Beach. In a game which was being played in a good spirit, things then threatened to turn nasty following a Jazzi Barnum-Bobb challenge on Lucas out on the left which sparked a rumpus between the teams. When calm returned, yellows were dished out to Barnum-Bobb and Jake Wannell for retaliation, the only cards of the afternoon.
Beach punched away a James cross and from the corner, Wannell got his head on it, but Dan Ball just failed to connect as City scrambled it away, with Town continuing to manage the game effectively. As the minutes ticked by though they were forced to contend with increasing pressure from the Clarets who were close to reducing the arrears when Tom Blackwell's free kick from the left side of the box was met by Ade Oluwo who could only sky his header over the top. Chelmsford found a route back into the game when they were awarded a penalty, another break seeing sub Harry Lodovica's cross find Jones who was caught by Wannell and Arjani Krasniqi fired home from the spot on 69 minutes.
Town introduced Morgan and Stearn to take over from Lucas and Sims-Burgess in the space of five minutes to add some fresher legs but apart from McCootie wriggling into the area to see his cross cleared it was City who were now very much on the front foot. A Brookes' cross was cleared to Trotter who volleyed wide while another delivery from Brookes picked out Lodovica whose tame header found the arms of Irish as the ball regularly found its way into the Town box.
Hopes of a respite fizzled out when Morgan saw two runs thwarted, first by the pitch which saw the ball bobble away and then by some solid defending by Oluwo, with Town having to contend with seven minutes of stoppage time, during which a corner from Blackwell was headed wide by Oluwo and a ball flicked over the top reached Freddie Hockey whose first time effort was safely held by Irish.
The Peacocks remained firm though to secure their ninth National League victory on the road this season. The Clarets now prepare for a play-off quarter final at home to St Albans City while Town look forward to a well-deserved break after a mammoth effort squeezing in 27 games in 13 weeks. A memorable first year at Step 2, let's do it all again starting in August! #UpThePeacocks 🦚
Line-Ups
Taunton: Lloyd Irish, Dan Ball, Jake Wannell, Ollie Chamberlain, Lloyd James (captain), Nick McCootie, Joe Guest, Zac Smith, Cameron Evans, Dave Sims-Burgess (Ross Stearn 75), Lee Lucas (Dylan Morgan 69). Unused sub: Nat Jarvis
Chelmsford: Eddie Beach, Cameron James, Jazzi Barnum-Bobb, Liam Trotter (captain), Ade Oluwo, Tyreke Johnson (Harry Lodovica 65), Michael Folivi (Freddie Hockey 65), Tom Blackwell, Callum Jones (Simeon Jackson 81), Ben Brookes, Arjanit Krasniqi. Unused subs: Giovanni McGregor, James Blanchfield
Officials
Referee: Robert Ablitt (Fareham)
Referee's Assistant 1: Jeffrey Aldous (Shefford)
Referee's Assistant 2: Fabio Roque (Ilford)
Attendance
1313
Reaction
"It was one of our better performances of the season I thought……" watch Rob Dray's Match Reaction on Peacocks TV HERE
Highlights
Match highlights can be seen courtesy of Chelmsford City FC HERE
Photos
Match photos from Club Photographer Debbie Gould can be viewed HERE
Mind In Somerset MOM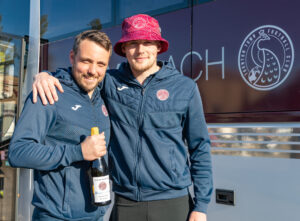 Lloyd Irish receives the Taunton Town Man Of The Match award from fellow keeper Jack Bycroft