Recap
Report
After the weekend postponement due to a waterlogged pitch, the Somerset Campervan Company Stadium witnessed another bout of heavy weather but on this occasion there wasn't a raindrop in sight as the Peacocks toiled against their lower ranked opponents who put in a fine shift to hold the hosts to a draw at 90 minutes, only to lose out narrowly in the penalty shoot-out.
Having not kicked a ball in anger for over a week and mindful of a busy pre-Christmas schedule, Head of Football Rob Dray opted to keep a full first team squad on duty, with four changes from the Chelmsford game including a first competitive start of the campaign for centre half Dan Ball following a lengthy spell out injured. With a strong side on duty, any inkling of a comparatively easy night against a side three levels lower were soon dispelled as the visitors quickly settled, Eli Collins slicing a shot well wide before they grabbed the lead after 10 minutes when Town dozed, and Jake Mawford headed home unchallenged from a Harry Durant left wing cross.
The Peacocks gradually recovered from their lethargic start as they began to lay some foundations at the other end. Nat Jarvis saw his header from a Cameron Evans' cross saved by Street keeper Jordan Brooks before the equaliser arrived after 19 minutes, a ball forward from Lee Lucas evading Evans but falling for Ross Stearn to swivel on to and drive beyond Brooks into the far corner from around 12 yards.
Jarvis prodded an effort goalwards from a Nick Grimes cross, but Brooks was down well to hold while the Cobblers' custodian also gathered Ollie Chamberlain's strike from the edge of the box after Stearn had squared across, although Street were generally dealing competently with Town's advances into the final third. Kyle Sampson fired wide for the visitors before Stearn bypassed a good opportunity to snatch a second when he lifted his attempt over the bar from close range after a ball in had deflected to him off Evans. After Brooks had gathered Lloyd James' cross at the second attempt, the final opening of the half came with the interval imminent. Chamberlain was felled just outside the area and Stearn's free kick was well struck but Brooks had the measure of it as he parried away.
It was all change for the second half. Town made three substitutions at the commencement whilst I decided on an aerial view from the gantry to hopefully see the game from a more appealing perspective. No such luck. In fact Street began the half by winning a multitude of corners. After the third, Peacocks' keeper Dan Lavercombe palmed over a cross for a fourth, two more quickly followed before Zeph Collins' shot was touched wide by Lavercombe for a seventh. Town stopped the rot by earning a corner of their own and when the ball was cleared back out to Jay Foulston, his return cross fell to Chamberlain whose poke at goal found Brooks.
Two penalty appeals in rapid succession after challenges on Stearn were dismissed before the hosts made another double swop, the Somerset FA permitting five substitutions in this competition. Austen Booth replaced Ball while loanee Malachi Linton donned the claret shirt for the first time in 87 days after recovering from a knee complaint. Stearn saw his effort deflect over the bar as they searched for a second but were finding it difficult to raise the gears sufficiently to see off the Western Leaguers who shocked the hosts by scoring a fine second goal of their own after 64 minutes. A break down the right, a nice one-two and Sampson's cross was drilled home by Durant running in at close range. The small band of Street supporters celebrated whilst Durant injured himself in the process of netting and had to leave the action.
The Cobblers were giving as good as they got and Merson Hamm had a volley blocked from Sampson's cross while the Peacocks assumed an air of playing with the hand brake on. Nick McCootie, not for the first time this season, made a big difference and after he had been brought down Stearn fired the free kick the wrong side of the post. The Town No 10 then took affairs into his own hands, powering past two opponents to smack a strike just wide from 25 yards. Linton had a shot blocked and Stearn dragged another effort wide as the 90 minute mark crept closer before the home side levelled with three minutes left, Foulston's long ball into the box from the left reaching Linton who controlled adeptly and tucked past Brooks.
Eight minutes of added time saw both sides threaten. Town were caught out as they tried to pass their way through, Street breaking only for Eli Collins to plant a shot into a tree and then Brad Pfupa who played a handful of games for the Peacocks as a student two seasons ago netted with a header, but the flag was already raised for offside. McCootie did his best at the opposite end to win it, getting clear along the byeline only to see Brooks clutch the centre ahead of Stearn and then winning a corner from which Grimes' downward header into the turf was cleared off the line.
And so it went to spot kicks to decide. Mawford and Stearn scored confidently for their teams before Lavercombe saved from Josh Goodwin and Brooks did likewise from Zac Smith. Zeph Collins and Linton made it 2-2 before Jakob Dickens spooned his attempt over the top. Dylan Morgan steered home and Freddie Frazer was also successful, leaving McCootie to secure progress with a delivery into the top corner. Credit to Street but the Peacocks will be well aware they will need to play an awful lot better when the demands of National League football return in several days' time.
Line-Ups
Taunton: Dan Lavercombe, Jay Foulston, Nick Grimes (captain), Dan Ball (Austen Booth 55), Ollie Chamberlain, Lloyd James (Zac Smith 45), Nat Jarvis (Nick McCootie 45), Joe Guest (Malachi Linton 55), Ross Stearn, Cameron Evans, Lee Lucas (Dylan Morgan 45).
Street: Jordan Brooks, Ross McGuire, Harry Durant (Brad Pfupa 68), Zeph Collins, Jake Horsey (captain), Eli Collins (Freddie Frazer 84), Phil Ormrod (Alex Parsons 84), Jakob Dickens, Jake Mawford, Merson Hamm (Josh Goodwin 79), Kyle Sampson (Kyle Strange 84). Unused subs: Oliver Pearson, Jason Hutchings
Officials
Referee: Matt Eva (North Petherton)
Referee's Assistant 1: Sean Clarke (Stoke-sub-Hamdon)
Referee's Assistant 2: Shaun Thorne (Yeovil)
Attendance
298
Reaction
"Respect to them but for us we have to be a lot lot better……" watch Rob Dray's Match Reaction on Peacocks TV HERE
Highlights
Match highlights can be seen on Peacocks TV HERE
Photos
Match photos from Club Photographers Debbie Gould can be viewed HERE
Dorset and Somerset Air Ambulance MOM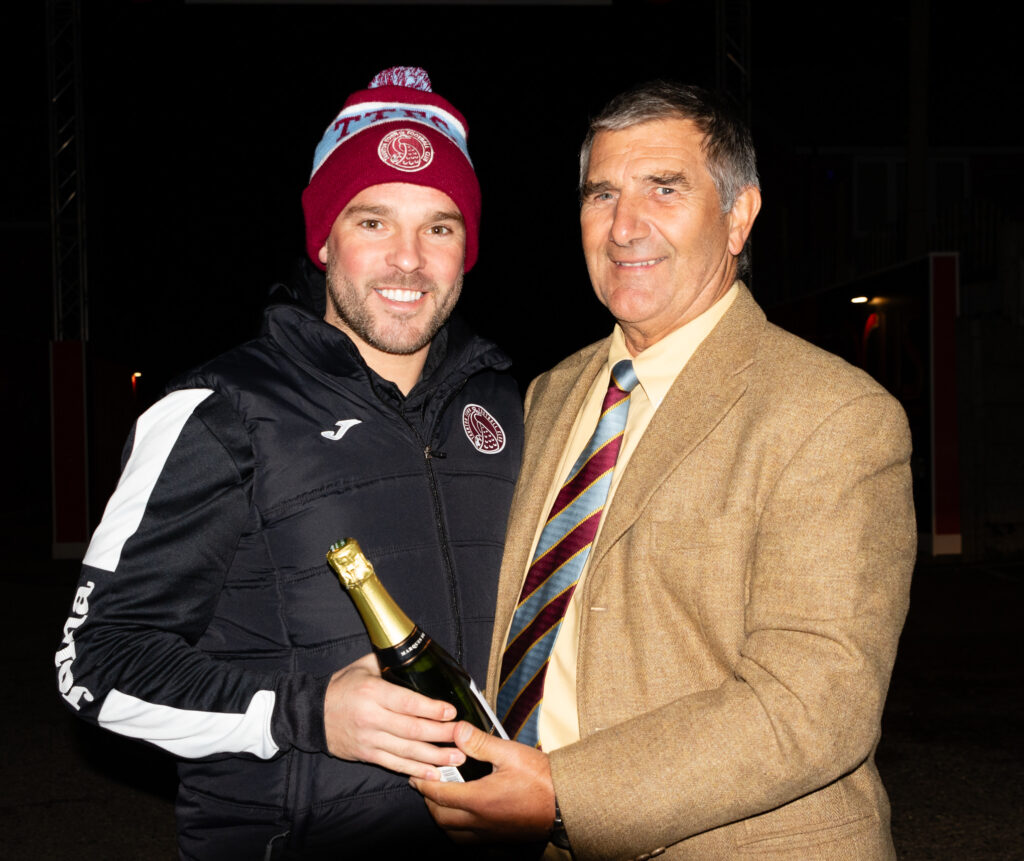 Ross Stearn receives the Taunton Town Town Man Of The Match award from Club Vice-Chairman Brian Pollard