Recap
Report
The Hampshire side gained revenge for their recent defeat at the Cygnet Health Care Stadium as they scored a late winner to condemn the Peacocks to defeat. Sometimes we witness games that have just about everything and for a neutral, this one would quite possibly be a 10 out of 10 one. For a Taunton fan, it left a bitter taste of real disappointment, as we made the journey back to Somerset with zero points, despite our team playing the game of their lives against a club that have not been out of the top three all season.
With several players rested on the bench, this gave the chance for new signings Ollie Tomlinson and Cameron Evans to stake their claims and they did not disappoint. The game kicked off at a ferocious pace, and it was the home team that came out of the traps quickest, going for an early goal which they got within 10 minutes. Hawks' top scorer Mo Faal caused all kinds of problems, as he teased the Town defence with his twists and turns, playing his part in a major assist for his Callum Kealy to fire home. And still the pressure on our defence persisted, as we put up the brick wall. Many of us began to think this could be another Ebbsfleet, where we endured a 5-0 defeat. Slowly but surely though, the Peacocks fought their way back into the game. In fact, the only other time Town keeper Jack Bycroft was bothered in the first 45 was to make a simple catch. We were awarded a couple of free kicks on the edge of the box that came to nothing.
Town's opening goal came just after the half hour. Sims-Burgess the provider after some wizardry in turning his man and putting in a fine cross which Cam Evans headed home. Make no mistake, this was Cam's goal, despite the tannoy announcement that it was a og. We finished the half the better team, with Havant very fortunate to still have 11 men on the pitch, after Dylan had broken through, when with only the keeper to beat, he was ruthlessly brought down by McCarthy. The ref then turned into jellyfish mode, only producing a yellow card which ought to have been a red.
Onto the second 45 minutes. My word, if the first half was a slow burner for Taunton, then the second was an inferno! The Peacocks attacked with more venom, with the bit well and firmly between our teeth, the belief that we could win this now totally installed in our players mentality. And what a goal we were to witness from Dylan Morgan. Picking the ball up around the half way line, he jinked himself past two players, before unleashing his very own Morgan "Exocet" Missile which will push Nick McCootie's goal at Weymouth all the way for goal of the season.
Taunton were now totally in control as they went for a 3rd goal, which surely would have seen the desired victory. Substitutions were made from both clubs, with Ross Stearn coming on for Sims-Burgess and Lee Lucas for Morgan, and the game seemed to drift away from us. James Roberts's shot skimmed the top of the post until with just over 20 minutes remaining, the home team made it 2-2 at a period when we were pinned down in our box, Faal prodding home after a cross from Sam Matthews.
As the tannoy announced there would be five minutes of injury time to be played, Town fans felt sure they would be going home with a well-earned point. But as in the games with Bath and away at Oxford, we showed again just how vulnerable we are in added on time, as Havant broke our hearts with a 91st minute winner when a corner was played short and Matthews curled a shot over Bycroft from the right edge of the box. Now this was a hard one to take indeed but that's football. There was an almighty row on the pitch as the game came to a fiery ending, with yellow cards galore handed out, two of which could so easily have been the colour red.
Football can sure be cruel at times as it would be hard to argue the Peacocks did not deserve at least a point. Onto Tuesday when Town host 4th placed Oxford City.
Line-Ups
Taunton: Jack Bycroft, Jay Foulston, Nick Grimes (captain), Jake Wannell, Lloyd James, Nat Jarvis, Zac Smith, Cameron Evans, Dave Sims-Burgess (Ross Stearn 58), Dylan Morgan (Lee Lucas 82), Ollie Tomlinson. Unused subs: Dan Ball, Ollie Chamberlain, Joe Guest,
Havant &Waterlooville: Teddy Sharman-Lowe, Josh Passley, Joe Newton, Joe Oastler, Jake McCarthy, Callum Kealy, Tyrell Miller-Rodney, James Roberts (James Collins 90+3), Muhammadu Faal, Ethan Burnett (Paul Rooney 56), Charlie Ruff (Sam Matthews 56). Unused subs: Oscar Gobern, Ben Shroll
Officials
Referee: Shelby Elson (Aldershot)
Referee's Assistant 1: Sean Jenkins (Southampton)
Referee's Assistant 2: Antony Smith (Christchurch)
Attendance
1148
Reaction
" We pushed them all the way, those lads gave everything today….." watch Rob Dray's Match Reaction on Peacocks TV HERE
Highlights
Match highlights can be seen courtesy of Havant & Waterlooville HERE
Photos
Match photos from Club Photographer Debbie Gould can be viewed HERE
Mind In Somerset MOM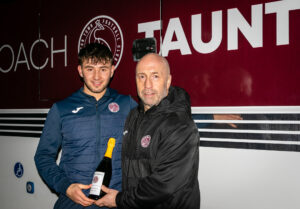 Dylan Morgan receives the Taunton Town Man Of The Match award from Head of Football Rob Dray