Recap
Match Report
The absence of top scorer Andrew Neal (injured) and Ollie Chamberlain (ill) meant that this was always going to be a tough game.
The opening goal came after 13 minutes it was the home side who scored it from a long throw by Adam Martin which was headed on by Mark Kirby and skipper Steve Brown fired it home from close range. Taunton equalized after 25 minutes from a Ryan Brett corner which was not properly cleared and it was a thumping shot from skipper Matt Wright which drew the scores level. The rest of the half was not too eventful although Brown could have added a second heading over from a Dave Pearce corner.
The home side made a good start to the second half and a Billy Adcock header went wide. Another Pearce corner after 68 minutes led to a handball which resulted in a red card for Taunton defender Shane White but although Pearce's penalty sent Taunton keeper Lloyd Irish the wrong way it hit the post and rebounded to safety and a golden opportunity had gone begging. Against ten men the visitors went on the defensive and Chesham never really looked like retaking the lead so the Peacocks came away with a creditable draw.
Game Details
Match: Chesham United vs Taunton Town
Date: January 25, 2020
Competition: Southern League
Venue: The Meadow
Kick Off: 3.00pm
Attendance: 551
Line-Ups
Taunton: Lloyd Irish, Shane White, Lewis Hall (Ross Staley 79), Ben Adelsbury, Nick Grimes, Harry Kite, Jamie Short, Ryan Brett, Matt Wright (captain), Dan Sullivan (Jamie Price 87), Luke Spokes (Owen Windsor 67). Unused sub: Ollie Chamberlain
Chesham: Ben Goode, Jeanmal Prosper, Kyle Watson, Adam Martin, Mark Kirby, Steve Brown (captain), Zak Joseph, Billy Adcock, Karl Oliyide (Eoin Casey 83), Bradley Clayton, Dave Pearce. Unused subs: Romario Hart, Dernell Wynter, Ronny Mfindo, Kieran Murphy
Officials
Referee: Jack Bloxham (St Albans)
Referee's Assistant 1: Matthew Norton (Waltham Cross)
Referee's Assistant 2: Elliott Mayer (Arkley)
Match Photos
The Albert Goodman Man Of The Match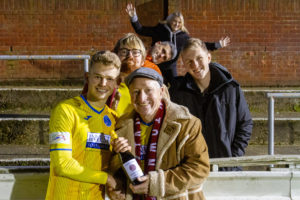 Harry Kite being presented with his award by Peacocks' supporter Dave Webster